Synology Partner: Your Success is Our Mission
With a blend of pioneering expertise and considerable experience, Synology offers tailor-made solutions to customers across industries worldwide.
Trusted by some of the best and brightest minds in the IT industry with more than six million installations, Synology is committed to transforming the way businesses manage their data – elegantly simple, secure, and reliable. We proudly partner with Synology and boast a wide array of solutions backed by cutting-edge innovation and field-proven reliability with a solid track record in meeting the ever-increasing expectations and demands.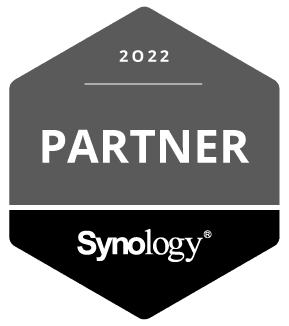 Data is at the heart of every industry's transformation, and this is where Synology has a profoundly important role to play. At its very core, our mission is to manage and protect the world's data. Synology uniquely enables every business to manage, secure, and protect their data wherever access is needed from flash to disk to multiple cloud architectures – at the scale needed to accommodate the exponential data growth of the digital world.
Backup & Data Protection
Back up all data types, from data archives and photo collections to mission-critical data for your businesses.
Hardware or software failures, data corruption, ransomware attacks, or simply accidental deletion can result in large amounts of data being lost. Backups provide a safety net when things go wrong and are an indispensable part of planning your infrastructure. Find the right Synology storage solution to get started.
Ransomware Prevention and Protection
Reduce your risk, protect your data. Preventative actions are essential to protect against falling victim to ransomware. 
Increasingly sophisticated ransomware and other malware pose a threat to home and business users alike. Synology products come with prevention and recovery solutions that can help protect or restore your data and hardware. Use our Synology solutions in addition to your antivirus software of choice.
Start Protecting Your Deployment Now
Discover how to back up each workload with license-free solutions in Active Backup Suite.

PCs, Servers, Virtual Machines