Sitecore Experience Cloud .NET CMS and E-Commerce Solution
Every Business Deserves World Class Strategy and Customer Experience
The Sitecore Platform will maximize and leverage your marketing content across multiple channels and choosing the right certified solutions partner is key
GDC offers cutting-edge Sitecore Solutions that help businesses in the areas of scalability, enterprise-level functionality, and complete integration. We provide a comprehensive and integrated digital marketing system that offers a full 360-degree outlook of customer engagements across several channels like Web, Social, Email, E-Commerce, Mobile, and Print. Sitecore enables marketing professionals to get a solid understanding of the customer's journey.
Create Unmatched Customer Experiences with Sitecore XP
As a Silver Partner for Sitecore, GDC understands your needs and our team of experienced and certified professionals will provide the world class strategy and design you deserve.
With digital experiences continuing to serve as the lifeblood for many organizations, Sitecore XP has additional features designed for both marketers and IT developers to help deliver personalized content faster and more efficiently.
Our Sitecore Solutions Include:
Agile teams across various stages of the Sitecore design and development lifecycle.
Enhanced customer experience with dynamic solutions tailored for your marketing needs.ycle.
All-inclusive Web Content Management marketing, e-commerce, and campaign management solutions.
Robust capabilities to build an e-commerce application with a dynamic visitor experience.
Cost-effective Sitecore CMS (Azure Cloud, AWS, or on-premise) deployment.
Portals with a secure content environment to minimize bounce rates.
Implementations with cumulative value added for revenue and marketing content efficiencies.
Web Content Management within an enterprise-level knowledgebase system.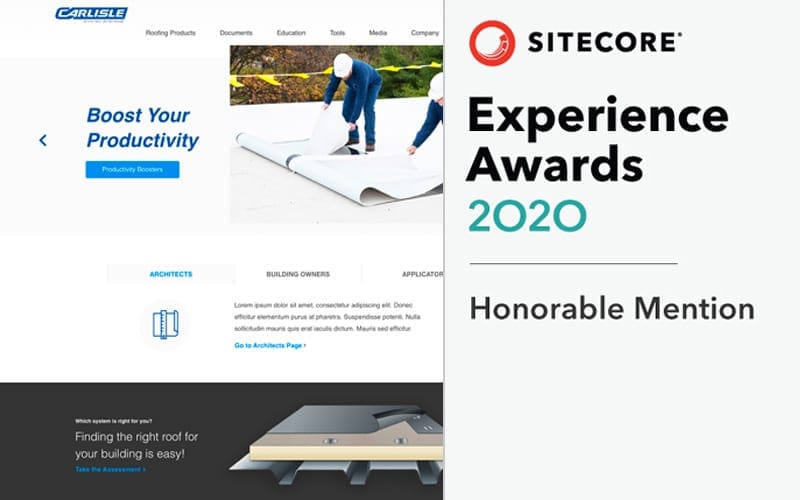 GDC Implements Sitecore® Experience Platform™ to Launch Roofing Industry to New Heights
As a leader in the construction materials industry, Carlisle Construction Materials (CCM) wanted to re-engineer their two largest brand websites, Carlisle SynTec and Versico Roofing Systems, from a 10-year-old platform to Sitecore®.
As a trusted CCM vendor and Sitecore Silver Partner, GDC was the ideal IT Solutions Provider to collaborate with on this project to advance CCM's use of technology while improving the overall user experience with their brand.
Request a Free Consultation Today
Call (866) 966-4562 to Schedule an Appointment.