IT Services for Healthcare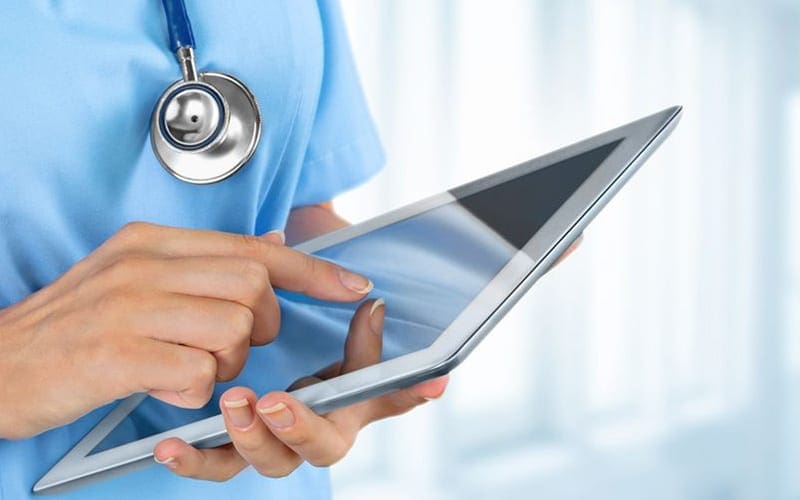 Transformative IT Solutions for the Healthcare Industry
Healthcare technology is always changing, and it's critical that you partner with a trusted healthcare IT company to stay ahead of the curve. GDC delivers industry-proven healthcare IT services to empower your facility to deliver outstanding care while reducing cost inefficiencies. We start by examining your existing IT systems, make recommendations, and implement the right HIPAA compliant solutions for your unique healthcare environment.
Your patients depend on 100% uptime. See to the integrity and security of your medical records while ensuring you always have access to your files in a timely manner with maximum network uptime.
To learn more, contact GDC to request a free consultation.
Healthcare IT Solutions to Better Serve Your Patients and Staff
Staying current with modern technology allows you to provide more efficient and accurate service to your patients and staff. Give your patients the best possible experience by keeping their records secure, enabling stronger incident reporting, performing risk assessments and remediation, and more. 
Professional healthcare IT service providers can help you equip your organization with the tools necessary to optimize processes and address technical issues while maintaining HIPAA compliance. Turn to GDC for expert healthcare IT support to enhance your daily operations and deliver better service to your patients and staff. 
Our Healthcare IT Services
Like most industries today, the healthcare field uses many advanced technologies to maintain high efficiency and ensure accuracy in all procedures, communications, and record-keeping processes. The healthcare industry also has the additional obligation to remain HIPAA compliant in all operations. When technology issues arise, healthcare organizations require HIPAA compliant IT service providers who can ensure all information remains secure and completely confidential. 
As an experienced healthcare IT service provider, GDC maximizes efficiency in your organization with HIPAA compliant tech support. 
HIPAA Compliant Help Desk Solutions for the Healthcare Industry
Technology is the backbone of many healthcare organizations. When your organization faces IT issues, you need quick resolutions so your staff can remain productive and deliver effective care to patients. Having the support of a professional healthcare IT service provider ensures you can access successful tech solutions quickly when you need them.  GDC provides
HIPAA compliant help desk
 support for healthcare organizations in need of 
IT services
. 
What Is a HIPAA Compliant Help Desk?
Help desks are essential for efficiently resolving tech issues within any business. For healthcare organizations, it's crucial to maintain HIPAA compliance while receiving tech support. Any software or help desk that filters through patient information must be compliant with privacy laws to maintain your patients' confidentiality. 
At GDC, we offer professional healthcare IT services through our HIPAA compliant help desk. You can count on us for quick tech solutions and patient confidentiality so you can get back to serving patients as soon as possible. 
How Can GDC Help You Resolve Your Healthcare IT Challenges?
Prompt, effective tech support is crucial when you work in the healthcare industry. IT issues need to be solved as quickly as possible so you can continue to operate smoothly and treat patients effectively. 
Common Challenges Healthcare Organizations Encounter
Long wait times for help desk service

Staff unable to perform tasks due to tech issues

Service technicians trying different solutions at random

Not receiving help desk support when you need it

Delays in responses to service inquiries
If you experience any of the above challenges, you may want to consider a service provider tailored to your healthcare IT needs. GDC provides punctual and successful healthcare IT support to meet your most pressing technology needs. Our HIPAA compliant help desk can get you the resolutions you require while maintaining your patients' privacy.
Why Should You Choose GDC?
The team at GDC values personal relationships and focuses on delivering outstanding customer service in every interaction. We prioritize our customer experience and strive to provide effective IT solutions so you can keep your healthcare organization functioning at optimal efficiency. 
When you choose GDC as your healthcare IT service provider, you can expect reliable tech support when you need it most.
Advantages of Using Our Services
Enhanced customer satisfaction:

 

Give your patients and staff a better experience with fewer disruptions and delays. 
Lower costs:

 

GDC offers competitive pricing to help make healthcare IT services available for organizations of all sizes. 
Improved customer service:

 

Enjoy friendly and attentive service from our knowledgeable team. 
Reliable support:

 

When you choose GDC, you can count on us for consistent service and practical solutions. 
Ticket escalation:

 

We use ticket escalation to get you a successful resolution as quickly as possible. 
Featured Healthcare Industry Capabilities Offered
GDC Offers Various IT Solutions for Our Healthcare Industry Customers
Invest in Technical Help Desk Outsourcing for Healthcare Today
For top-of-the-line IT help desk outsourcing services, choose GDC. We pride ourselves on delivering exceptional IT services paired with high-level communication and customized support solutions for every business.
Featured Technology Partners
We partner with some of the best known and highest rated brands in the industry to deliver the best technology solutions for your business.