Use ESSER & GEER Funding Now – Qualify For Federal Relief
Not sure where or how to use your ESSER funds? GDC can help.
Kelsey Young, Copywriter and Media Specialist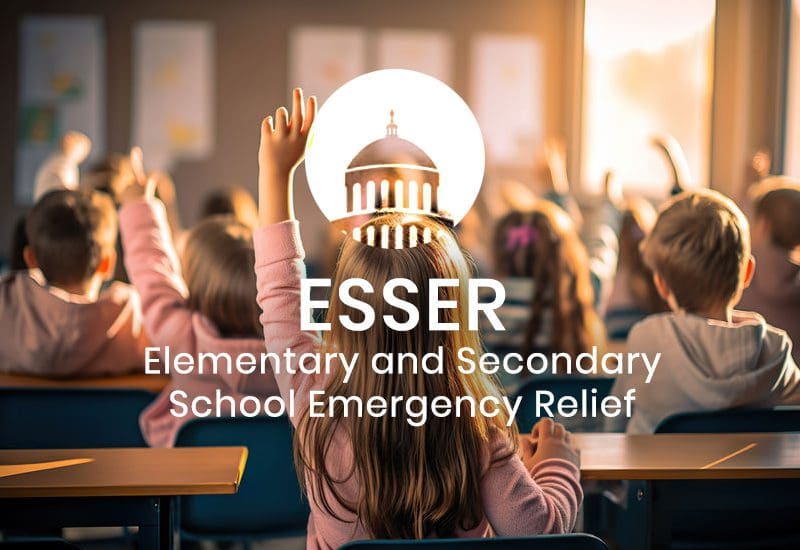 The Elementary and Secondary School Emergency Relief (ESSER) and Governor's Emergency Education Relief (GEER) funds are federal allocations aimed at addressing the pressing challenges faced by schools during emergencies.
Enacted as part of the federal CARES Act in March 2020, The ESSER Act allocated funds to address the impact of COVID-19 pandemic on elementary and secondary schools across the U.S. Pennsylvania received a portion of these funds to support its K-12 schools.
Funds are still available. Pennsylvania K-12 schools utilized ESSER funds for various purposes, including but not limited to:
Addressing learning loss through interventions like summer learning or after-school programs.
Preparing schools for safe reopening, including the purchase of PPE, sanitation supplies, and infrastructure modifications.
Training and professional development for staff on topics such as remote learning.
Enhancing the capacity for remote learning by purchasing devices, enhancing broadband access, and development digital resources.
Mental health services and support for students and staff.
Addressing the needs of vulnerable student populations, such as English language learners, students with disabilities, and those experiencing homelessness.
While the ESSER Act provides guidelines on the use of funds, it also offered flexibility, enabling school districts in PA to determine the best way to address the unique challenge and needs of their communities.
Prior Approvals for Expenditures
For any federal grant, it can be tricky to decide if certain expenses are reasonable or if they can be attributed to the grant. To prevent any disagreements or issues later, the organization receiving the grant can get written permission beforehand from the responsible agency. This permission should specify the duration or details of the agreement. However, just because an expense doesn't have prior permission doesn't mean it's unreasonable or can't be attributed to the grant, unless getting permission beforehand is a strict requirement.
Using Grant Money for Licenses, Subscriptions, and Memberships
Grant money can typically be used to pay for licenses, subscriptions, and memberships. However, there are some rules to follow:
Group Use: The grant cannot pay for a license, subscription, or membership for just one person. It needs to be for multiple users or a group.
Duration Limit: Even if the grant covers it, you can't buy licenses, subscriptions, or memberships that last more than four years beyond the grant's end date.
Remember to always check the specifics of each grant, as they might have unique guidelines or requirements.
Understanding FedMonitor in Pennsylvania
To ensure transparency and proper utilization of funds, Pennsylvania's Department of Education requires school districts to submit plans detailing how they intended to use ESSER funds. Regular monitoring and reporting were also instituted to track fund usage and its impact.
FedMonitor is a tool created by the Pennsylvania Department of Education (PDE). It's designed to help educational organizations and other groups in Pennsylvania follow the monitoring guidelines when they apply for federal grants using the eGrants system.
Here's how it works:
Self-assessment: Organizations can use FedMonitor to conduct a self-check. This means they can assess how well they're following the grant's guidelines on their own.
PDE Review: After the self-assessment, PDE staff will look over it. This review can happen virtually, online, or in-person.
To get the most out of FedMonitor, organizations should check user settings regularly. At least once a year, double-check the security settings of everyone who uses FedMonitor in your organization. This will help avoid any hiccups or delays when using the tool.
In short, FedMonitor is here to make the federal grant process smoother and more transparent for everyone in Pennsylvania.
The Right Tech for Your Classroom
Not sure where to use your ESSER funds? GDC IT Solutions can help connect you with the best technology solutions to support your community.
As tech keeps changing education, teachers now have amazing access to videos, online classes, and tools that improve both in-person and online teaching. This opens up more ways to learn.
Our tools are made to help every user get the most out of their tech investments. By using the best resources when needed, we change the way students, teachers, and staff learn. With our advanced tech solutions, we create safe links that easily connect users to important resources. This lets everyone work together and learn, whether they're on campus or not.
Our solutions are crafted to benefit everyone, helping them get the most from their tech spending. By using the best tools at the right moments, we change how students, teachers, and administrators learn. With our top-notch tech methods, we make safe links that easily bring users to vital resources. This helps everyone collaborate and learn, whether they're at school or elsewhere.
PDE Contact Information
If you have a question or comment about ESSER/GEER, please send your inquiry to the appropriate resource account or view the ESSER FAQs.
ESSER Funding: ra-edarpesser@pa.gov
ESSER Monitoring: ra-edessermonitor@pa.gov
GEER: ra-edarpesser@pa.gov
The Pennsylvania Department of Education (PDE) offers ESSER/GEER Extra, a frequent communication that provides school communities with reminders, resources, information, and guidance as they develop plans, implement, and monitor their Elementary and Secondary School Emergency Relief (ESSER) and Governor's Emergency Education Relief (GEER) funds. Visit PDE's ESSER/GEER Extra webpage to access more information and the archive.