GDC provides technical career opportunities within our company, as well as placement within Fortune 500 companies.
We understand that each candidate has a unique set of goals and expectations with employment. We learn about your career goals and strive to match you with the ideal position. As your experience level rises and your career goals evolve, GDC is there with you every step of the way by staying in constant communication. At GDC, you are not simply a resume or means to an end. You are part of the family!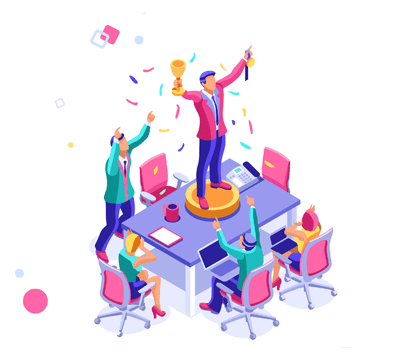 Be Connected and Get the Latest Career Opportunities in Your Inbox
Call 1 (866) 966-4562 to Speak with a Recruiting Specialist or Submit Your Resume Online
Diversity Inspires Innovation and Quality in Everything We Do.
As an associate of GDC, you will be given the opportunity to grow and succeed as a person and as an employee. Workplace diversity is encouraged and nurtured because each of our employees offers individual expertise and experiences, inspiring innovation and quality in everything we do. This is reflected in our interactions with each other, with our clients, and in our dedication to excellence.
Should I Work with a Recruiter?
A Professional Recruiter Presents Opportunities You May Not Know Exist.
Our team will get to know your skills, strengths, and preferences to help you meet your career goals. You can get to know the company without dealing with the awkward topics of: salary, sign on bonus, relocation, stock options, vacation, benefits, etc. You will have a personal career agent negotiating these items on your behalf.  Starting the process is simple, send us your resume by creating an account.
Cutting Edge Technology and Innovation
GDC fully supports and embraces continuing education and industry certifications to stay ahead of trends and remain current within the technology landscape. We recognize that our employees add the real value to our clients and to our business. By approaching our daily operations with a passion for innovation and a shared-learning environment, everyone can make a positive difference.
Employee-Centric Environment
GDC prides itself on employee satisfaction with a firm belief that happy employees are the most productive employees. In appreciation of our employees and their contributions, we sponsor numerous events throughout the year including an annual gala, golf, lunch barbeques and more.
Career Growth
GDC is one of the fastest growing companies in the region! Sustained growth means ongoing opportunity. Many of our senior leaders have grown within the company, starting with the helpdesk or other entry-level roles to become thought leaders in the fields of IT infrastructure, application development, project management, and business development.
Comprehensive Benefits Package
GDC offers competitive compensation, excellent benefits, and a positive work environment designed around the philosophy of mutual respect. Our comprehensive benefits package includes medical, dental, prescription, vision, 401(k), short- and long-term disability, and group life.
Holiday and Vacation
GDC firmly believes in a comfortable work-life balance, and we offer comprehensive holiday and paid-time-off (PTO) packages. We provide a generous PTO package, and we encourage our staff to use it whether it's for vacation or other personal reasons everyone needs time to relax and refresh.