GDC Becomes an e-Spirit Services Partner
GDC to Offer Rapid Delivery of Content-Driven Experiences using FirstSpirit DXP
Chambersburg, Pennsylvania – January 7, 2021
Global Data Consultants, LLC (GDC), a leading provider in technology solutions, today announced that it has joined the e-Spirit Services Partner Program.
e-Spirit, maker of the industry-leading FirstSpirit Digital Experience Platform (DXP) powered by a hybrid headless CMS, has secured a number of partnerships with industry-leading technology solution vendors, highlighting the growing demand to reduce the deployment time for enterprise-class customer experiences.
"We are excited to team up with e-Spirit and offer FirstSpirit DXP to our mid-market and enterprise customers. As an e-Spirit Standard Partner, GDC can leverage the power of e-Spirit products to deliver personalized, immersive experiences that engage customers throughout the entire customer journey," said Mike Jackson, Senior Vice President of Business Development. "Deploying hybrid headless CMS technology helps companies quickly and easily generate rapid ROI by creating content-driven customer experiences across multiple touchpoints. Reducing implementation time will allow GDC customers to quickly see value in its investment and have a better overall experience."
Michael Gerard, Chief Marketing Officer of e-Spirit, Inc. added, "Enabling rapid delivery of content-driven commerce experiences is a critical requirement for companies that want to separate themselves from competitors and to quickly react to changing market needs. e-Spirit is extremely pleased to have GDC as an Authorized e-Spirit Services Partner. We believe the marketplace and relationships that GDC has cultivated over the past 25 years will offer great opportunity for the implementation of e-Spirit's products and the success of our enterprise customers."
e-Spirit's SaaS-based FirstSpirit DXP helps businesses engage customers and increase revenue with rapid execution of personalized, content-rich digital experiences anytime, anywhere. Savvy digital marketers across all industry sectors rely on the FirstSpirit platform—which includes a hybrid headless CMS, AI-driven personalization and omnichannel marketing capabilities—for individualized and synchronized content delivery across all channels, to differentiate their companies and turn customers into lifelong fans in record time.
About Global Data Consultants
Global Data Consultants, LLC empowers businesses to increase employee productivity, maximize investments and improve operational efficiencies. With experienced and certified professionals, GDC delivers services in the areas of application development, data center, 24/7 multilingual service desk, managed IT services, desktop lifecycle management, project management, and business process consulting.  Learn more at gdcITsolutions.com.
About e-Spirit
e-Spirit, founded in 1999, is part of the adesso Group and has offices in 16 locations in the US, Germany, Great Britain, the Netherlands, Switzerland, Austria and Asia Pacific. Customers include international brands and corporations such as Commerzbank, BASF, Bosch, Belk, Carter's, Galeria Karstadt Kaufhof, GNC, Grohe, Reitmans, Olympus, Santander Bank, Walbusch and many others. For more information, go to www.e-Spirit.com.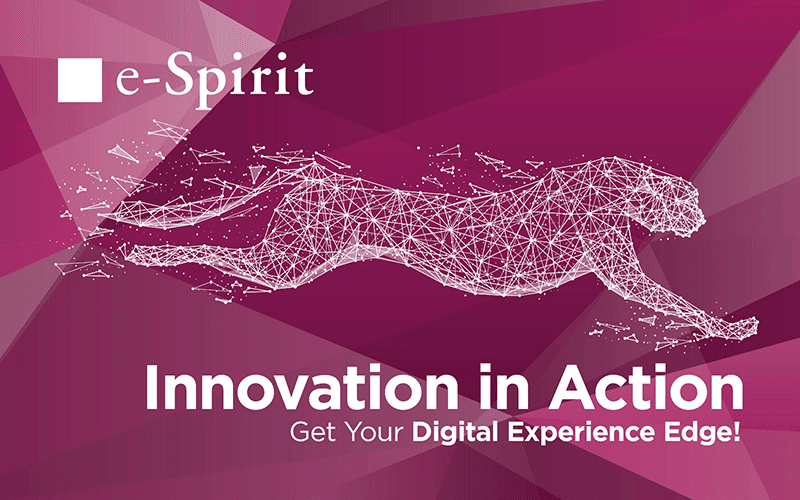 The FirstSpirit DXP: Inspiring Digital Experiences at Scale
"The FirstSpirit Digital Experience Platform (DXP), offered through a SaaS or on-premises model, helps you engage customers and accelerate time to revenue with personalized, content rich digital experiences anytime, anywhere. The FirstSpirit DXP includes a hybrid headless CMS, AI-driven personalization and support for multiexperience and omnichannel marketing capabilities. Savvy marketers rely on FirstSpirit for personalized and synchronized content delivery across all channels to differentiate their companies and compel buyers to action. We call this the Digital Experience Edge."
An innovative platform for your unique business strategy
The FirstSpirit DXP helps you build a digital experience ecosystem that is 100% tailored to your company's business strategy for a digital experience edge.
Our hybrid CMS headless allows you to deliver content as-a-service in milliseconds to any device, yet still have front-end preview AND edit capabilities.