GDC Attends Cumberland Valley Business Alliance Young Professionals Conference
GDC learns what it takes to be a leader at CVBA Young Professionals Conference
Chambersburg, Pennsylvania – April 28, 2022
Global Data Consultants, LLC (GDC), a leading IT hardware, managed solutions, and staffing technology provider headquartered in Chambersburg, Pennsylvania attended the second annual Cumberland Valley Business Alliance (CVBA) Young Professionals Conference hosted by the Franklin County Visitors Bureau.
Young professionals from across Franklin County were invited to attend the half-day seminar that featured local experts sharing wisdom from their careers and industries. Leadership was the theme, encouraging professionals to strive for an effective leadership mentality early in their careers.
Adam Donius, Owner and Operator of Chick-fil-A Chambersburg, shared the importance of building meaningful relationships and prioritizing a team focus that fosters a successful work environment for everyone.
It is difficult to be a great leader if personal health and wellness are not a priority. Frankie and Annette Serrano of THE8BLOCK Fitness Studio shared their expertise on how to best fit healthy habits into a daily routine.
Angela Quigley, Member of the Firm at SEK, CPAs & Advisors, shared her experience of self-growth that allowed her to reach her career goals. Quigley was recognized as a 2021 Central Penn Business Journal's Forty Under 40 honoree.
The seminar closed with Dr. Thomas Kramer, Ph.D., Assistant Teaching Professor at Penn State Mont Alto, who taught the influence of a "Getting Things Done" mentality. Practices, such as self-reflection and organization, can boost productivity and career growth.
With double the attendance from last year, the conference was a great networking opportunity for young professionals eager to find success in their careers and build lasting professional relationships.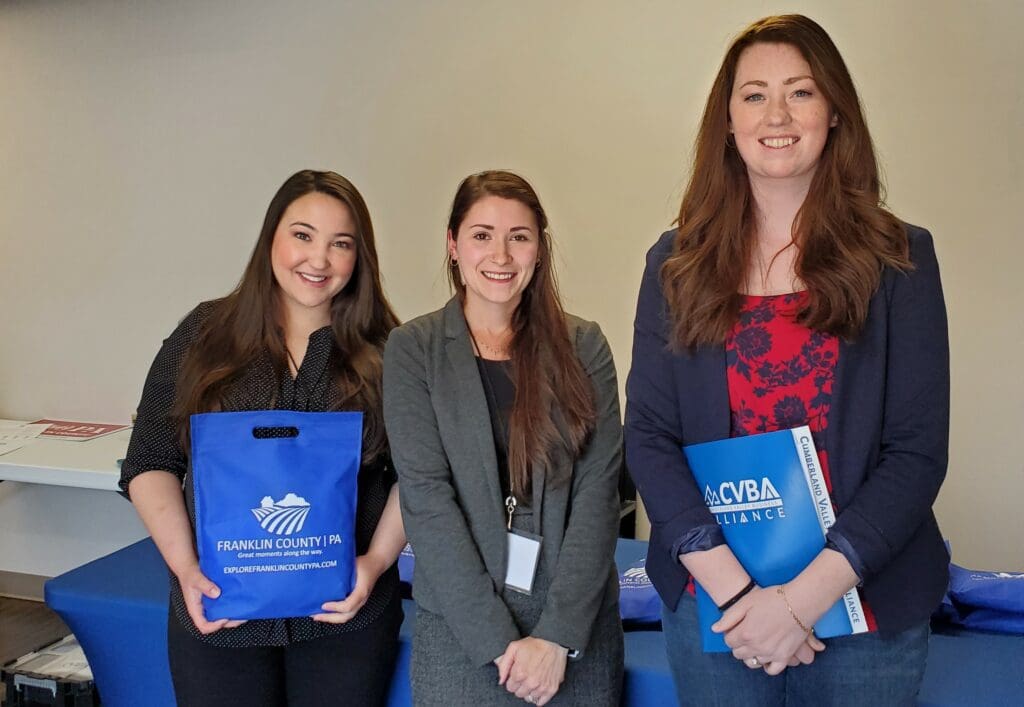 Attending: Stephanie Holladay, Carley Kimball, and Faith Niess. (Left to Right)
About Cumberland Valley Business Alliance
Serving nearly 1,000 businesses, CVBA's mission is to help its members prosper and enhance the quality of life in the Cumberland Valley Region. We are the largest business advocacy organization in the area. The Cumberland Valley Business Alliance (CVBA) is a business partnership between the Greater Chambersburg Chamber of Commerce and Greencastle-Antrim Chamber of Commerce. Its mission is to help its members prosper and enhance the quality of life in the Cumberland Valley region.
About GDC IT Solutions
GDC empowers businesses to increase employee productivity, maximize investments and improve operational efficiencies. With experienced and certified professionals, we deliver services in the areas of application development, data center, 24/7 multilingual service desk, managed IT services, desktop lifecycle management, project management, and business process consulting. Learn more.