Top 25 Project Abbreviations for Project Management Professionals
Decoding the World of ITSM Abbreviations and Related Terms
Kelsey Young, Copywriter and Media Specialist
In the world of IT (Information Technology), there seems to be project abbreviations and acronyms for everything. For those just jumping into the field, it can be a little overwhelming trying to navigate conversations filled with series of letters with unknown meanings. That's why we decided to compile thousands of acronyms under the IT umbrella. We plan to break these down further for you, focusing on different topics so that you can easily reference what you're looking for.
There are dozens of project management terms you might come across and many are abbreviated to make things quicker. In this article, we will highlight the Top 25 most common project abbreviations and acronyms that every project management professional (PMP) should know.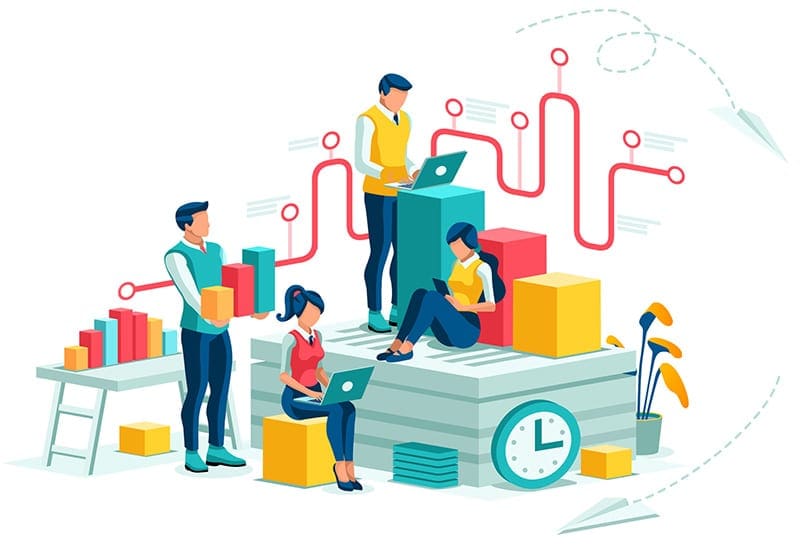 Here are the Top 25 Project Abbreviations and Acronyms:
AC: Actual Cost
Actual cost is the total expenditure required to obtain an asset, and can include several different factors: The expense invoiced by your supplier. The cost to deliver the asset. The cost to set up the asset. The cost of testing the asset.
BAC: Budget At Completion
Budget at completion or BAC is the total anticipated and budgeted spend for a project or specific phase of works, or in simple terms, the estimated cost of the project before the project begins.
CCB: Change Control Board
A change control board (CCB), is used to manage and oversee changes to the project scope, schedule, and budget. The CCB is typically composed of senior stakeholders from different parts of the organization.
CR: Change Request
A change request is a formal proposal for an alteration to some product or system. In project management, a change request often arises when the client wants an addition or alteration to the agreed-upon deliverables for a project.
CV: Cost Variance
Cost variance is the process of evaluating the financial performance of your project. Cost variance compares your budget that was set before the project started and what was spent. This is calculated by finding the difference between BCWP (Budgeted Cost of Work Performed) and ACWP (Actual Cost of Work Performed).
EAC: Estimate At Completion
Estimate at Completion is the current expectation of the total costs of a project once completed. The calculation is the sum of the amount invested at the time of measurement and the costs necessary to complete the work.
EV: Earned Value
Earned value (EV) is a way to measure and monitor the level of work completed on a project against the plan. Simply put, it's a quick way to tell if you're behind schedule or over budget on your project. You can calculate the EV of a project by multiplying the percentage complete by the total project budget.
EVA: Earned Value Analysis
Earned Value Analysis (EVA) is a method that allows the project manager to measure the amount of work actually performed on a project beyond the basic review of cost and schedule reports.
FFP: Firm Fixed Price
A firm-fixed-price contract provides for a price that is not subject to any adjustment on the basis of the contractor's cost experience in performing the contract. This contract type places upon the contractor maximum risk and full responsibility for all costs and resulting profit or loss.
KPI: Key Performance Indicator
A KPI is short for a key performance indicator, a measurable and quantifiable metric used to track progress towards a specific goal or objective. KPIs help organizations identify strengths and weaknesses, make data-driven decisions, and optimize performance.
LL: Lessons Learned
Lessons Learned (LL) is knowledge or understanding gained by experiences that may be positive, as in a successful test or mission, or negative, as in a mishap or failure, or past incidents in current practices. A Lesson must be significant that has a real or assumed impact on operations; valid in factual and technical correctness; and applicable in identifies a specific design, process, or decision that reduces or eliminates the potential for failures and mishaps, or reinforces a positive result. Proved and validated Lessons Learned to be updated to the company plan and procedure
PDCA: Plan Do Check Act
The PDCA/PDSA cycle is a continuous loop of planning, doing, checking (or studying), and acting. It provides a simple and effective approach for solving problems and managing change. The model is useful for testing improvement measures on a small scale before updating procedures and working practices.
PMBOK: Project Management Body of Knowledge
The Project Management Body of Knowledge (PMBOK) is a document containing standard terminology, best practices and process guidelines around project management as defined by the Project Management Institute (PMI).
PMI: Project Management Institute
Project Management Institute (PMI) is the leading professional association for project management, and the authority for a growing global community of millions of project professionals and individuals who use project management skills.
PMO: Project Management Office
A project management office (PMO) is a group, agency or department that defines and maintains the standards of project management for a company. The PMO retains the documentation and metrics for executing projects and is tasked with ensuring projects are delivered on time and within budget.
PV: Planned Value
Planned Value (PV) is the budgeted cost for the work scheduled to be done. This is the portion of the project budget planned to be spent at any given point in time. This is also known as the budgeted cost of work scheduled (BCWS). Actual Costs (AC) is simply the money spent for the work accomplished.
QA: Quality Assurance
The quality assurance process helps a business ensure its products meet the quality standards set by the company or its industry. Another way to understand quality assurance (QA) is as a company's process for improving the quality of its products. Many businesses view their QA program as a promise to internal stakeholders and customers that the company will deliver high-quality products that provide a positive user experience.
RACI: Responsible, Accountable, Consult, Inform
RACI is an acronym derived from the four key responsibilities most typically used: responsible, accountable, consulted, and informed. It is used for clarifying and defining roles and responsibilities in cross-functional or departmental projects and processes.
RFP: Request for Proposal
A request for proposal (RFP) is a project announcement posted publicly by an organization indicating that bids for contractors to complete the project are sought. The RFP defines the project, for the company that issues it as well as the companies that respond to it.
RFQ: Request for Quotation
Request for quote (RFQ) is a process wherein an enterprise asks a set of potential suppliers or service providers to submit their price quotations and stand a chance to supply or provide goods or services. Once the enterprise receives the price quotations, it can choose the vendor that best matches its criteria for the goods or services.
SLA: Service Level Agreement
A service-level agreement (SLA) sets the expectations between the service provider and the customer and describes the products or services to be delivered, the single point of contact for end-user problems, and the metrics by which the effectiveness of the process is monitored and approved.
SV: Schedule Variance
Schedule Variance indicates how much ahead or behind schedule the project is. Schedule Variance can be calculated using the following formula: Schedule Variance (SV) = Earned Value (EV) – Planned Value (PV) Schedule Variance (SV) = BCWP – BCWS.
SOW: Statement of Work
A statement of work (SOW) is a document that provides a description of a given project's requirements. It defines the scope of work being provided, project deliverables, timelines, work location, and payment terms and conditions.
VOC: Voice of the Customer
Voice of the Customer (VoC) is exactly what you think it is: listening to your customers. Voice of customer encompasses the process of gathering and understanding customer feedback so customer responses directly improve the product and customer experience.
WBS: Work Breakdown Structure
A work breakdown structure (WBS) is a visual, hierarchical and deliverable-oriented deconstruction of a project. It is a helpful diagram for project managers because it allows them to break down their project scope and visualize all the tasks required to complete their projects.
To decode more IT-related acronyms and terms, check out our IT Acronyms and Abbreviations Resource.