The 14 Most Common IT Terms to Communicate with Your Managed Service Provider
Communicate your technological needs confidently with common IT terms.
Kelsey Young, Copywriter and Media Specialist
When you made your choice to start your own business, you may not have anticipated the depth or breadth of your information technology needs.
If you are not a tech wizard, or your business is growing much faster than you have the resources to handle, one option to consider is outsourcing your computer needs to a managed service provider (MSP) for your computer and technology needs.
An MSP are experts in their field, and by signing a service level agreement (SLA), you can rest assured that all your business needs will be prioritized, and your data secure. A good MSP like Global Data Consultants, LLC (GDC) will collaborate with the owner to understand the business's history and future goals, then conduct a comprehensive health check on your systems before proposing the best products for the business.
However, dipping your toes into the world of IT for the first time can be intimidating with all the unfamiliar IT terms and acronyms.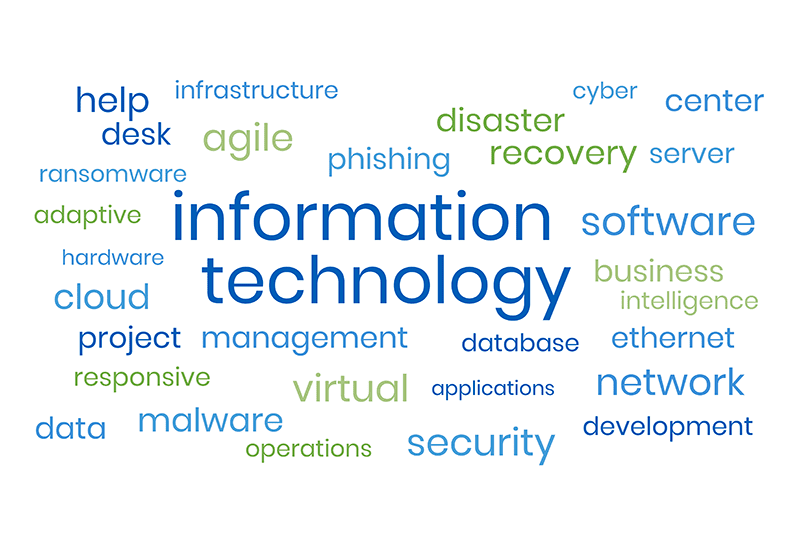 Learning the Lingo
Outsourcing IT services to an MSP frees up your time as a business owner to focus on what is most important: growing your business. It is still good business practice to have some common knowledge of the systems you are using to run your business, or to discuss your needs with your MSP.
Here are fourteen common IT terms and acronyms you will hear when talking with your IT professionals.
Information Technology (IT): A broad term referring to the study or more commonly, the use of computer devices and programs for telecommunications, storing, retrieving, and sending information.
Data: Collection of individual values that, when processed, convey information. Computer data is stored and processed on a computer. Forms of Data: text, images, audio, video. Depending on the type of data, it is encoded using different methods. Text is stored as bytes. Image data are stored as pixels.
Network: Interconnected group of computing devices, computers, laptops, tablets, ect., that can exchange data and share resources with one another. Can be small or large.
Ethernet: A system for connecting computer systems to form a local area network or LAN, with protocols to control the passing of information and to avoid simultaneous transmissions by two or more systems. Describes how network devices format and transmit data so other devices on the same LAN or campus network can recognize and process the information.
Hardware: The machines, wiring, and other physical components of a computer or other electronic system.
Software: Instructions, data, or programs that tell a computer how to work. Application software or Apps are a program designed to do something not related to the operation of the computer system. System software is needed to run the computer. Driver software allows your hardware to function with your operating system.
Infrastructure: The combined components, hardware, software, and network components are required to operate and manage the system. It is the foundation and framework. Could be physical or cloud based.
Server: this term can be used to reference a physical machine, a virtual machine, or to software that is performing the same function. A server is used to support another computer program and its user. A physical server is a computer that is used to run server software, which consists of an operating system and an application.
Cloud: is a term that refers to servers which one can access over the internet. Data and software can both be housed in the cloud. This allows the users to access their data from almost any device. Examples could be social media accounts that are cloud based, Microsoft Office 365, Outlook etc.
Cyber Security: the practice, implementation, and maintenance of security protecting an organization's data from digital attacks online. These attacks are usually a digital infiltration of a third-party seeking access to manipulate or destroy a company's sensitive information.
Phishing: when a malicious third party sends a fraudulent email mimicking reputable sources in or in business with the company. These emails usually direct the individual to click on a link that gives the attacker access to the computer. They then steal sensitive information like personal information, credit card information, and passwords.
Malware: a type of software designed to infiltrate your devices to collect personal information and/or cause damage to the device.
Ransomware: Is a type of malicious software. Once downloaded, the attacker gains access to your operating system, overriding one's control, blocking access to files, and effectively stopping productivity until a monetary ransom is paid. The ransom does not guarantee that the files will be recovered.
Virtual Private Network (VPN): a tool to establish a protected network connection. VPNs encrypt your internet traffic and disguise your identity online. This makes it harder for cyber attackers to track your online activity and steal your data.
There are far more expansive IT terms, but with these basics, go forth and confidently communicate with your MSP and advocate the needs of your business.
Choose GDC IT Solutions to Manage your Business IT Needs
GDC is a technology service provider offering IT consulting and customized IT solutions to fit your business needs. GDC's Managed Service Agreements offer peace of mind with professional and personalized IT care for your business. You can relax knowing our certified technicians will concentrate on your IT systems so you can focus on your business.
Since 1995 GDC has provided superior IT solutions for our clients. From IT consulting to application development, our expert team proactively monitors and secures our clients' systems with in-depth industry knowledge and customized strategies and services.
Learn more or request a personalized quote by connecting with a specialist online.