GDC Recognized as 2022
Cumberland Valley Business Alliance

Employer of the Year
GDC Provides its Employees with Promising, Fulfilling Careers
Chambersburg, Pennsylvania – March 29, 2022
Global Data Consultants, LLC (GDC), a leading IT hardware, managed solutions, and staffing technology provider, was honored to be recognized as the Cumberland Valley Business Alliance (CVBA) Employer of the Year during the CVBA Awards Breakfast on March 29.
The Employer of the Year award was given to GDC for its workplace policies, support for employee training, job development and positive employee testimonials. GDC offers great opportunities for its employees in all departments, including sales, administration, human resources, and various technical teams.
Thomas J. Trgovac, Executive VP & General Counsel, was present to receive the award on the company's behalf. The nomination was entirely driven by employees, a humbling notion.
"To nominate us, they had to make a case for us, and that speaks volumes," said Trgovac.
GDC encourages personal and career driven growth for all its employees, demonstrated through its retention and team testimonials that it offers an outstanding environment for employees to thrive.
More than 200 business and community members of CVBA gathered to honor individuals and businesses for their outstanding achievements at the Awards Breakfast, sponsored by M&T Bank.
"We are proud to honor our business and community leaders this morning for their exceptional contributions," said Bill Kick, chair of the CVBA Board of Directors. "We are blessed to have so many people invested in our area who are always seeking to improve the quality of life in our community."
Held at the Chambersburg Country Club, the sold-out event included seven awards and a keynote presentation by Jesse McCree of SCPa Works. McCree discussed the current labor environment as well as the impact of the growing "pandemic." He concluded by addressing the workforce skills that will be needed in the future as many positions become remote or automated to combat the shrinking number of people available to fill jobs.
GDC's recognition shows the community the benefits the company prioritizes for those who work there.
"It demonstrates to people that we are a place that not only provides a great income, but a great career," said Trgovac.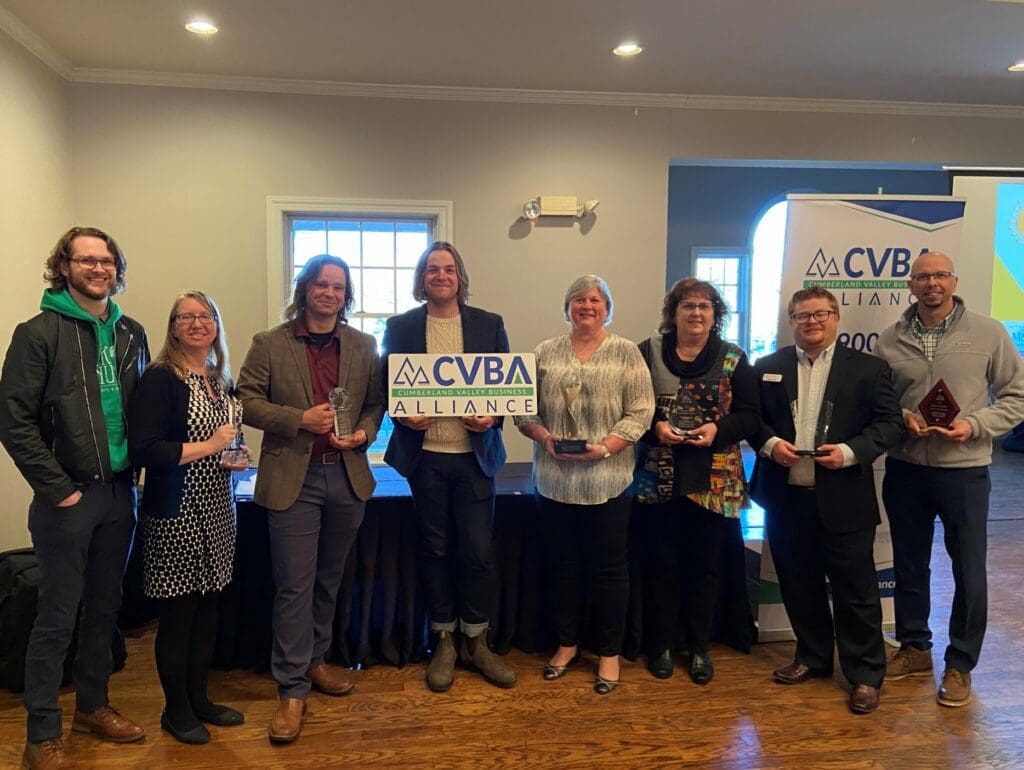 Photo of Award Winners (L-R): Andrew Vickers and Denice Bigham of Franklin County Library Systems, Matthew Wedd and Jacob Davis of Conococheague Institute, Carla Christian of Chambersburg Memorial YMCA, Dr. Kim Eaton of Franklin Together, Nathan Neil of LaunchUX LLC and Alan Estes of GDC IT Solutions.
About Global Data Consultants, LLC.
Global Data Consultants, LLC empowers businesses to increase employee productivity, maximize investments and improve operational efficiencies. With experienced and certified professionals, GDC delivers services in the areas of application development, data center, 24/7 multilingual service desk, managed IT services, desktop lifecycle management, project management, and business process consulting.  Learn more at gdcITsolutions.com.
 About Cumberland Valley Business Alliance
The Cumberland Valley Business Alliance is a partnership between the Chambersburg and Greencastle-Antrim chambers of commerce. CVBA is the largest business advocacy organization in Franklin County with more than 850 members. It is committed to the prosperity of its members while enhancing the quality of life in the Cumberland Valley area. For more information, visit CVBAlliance.org.