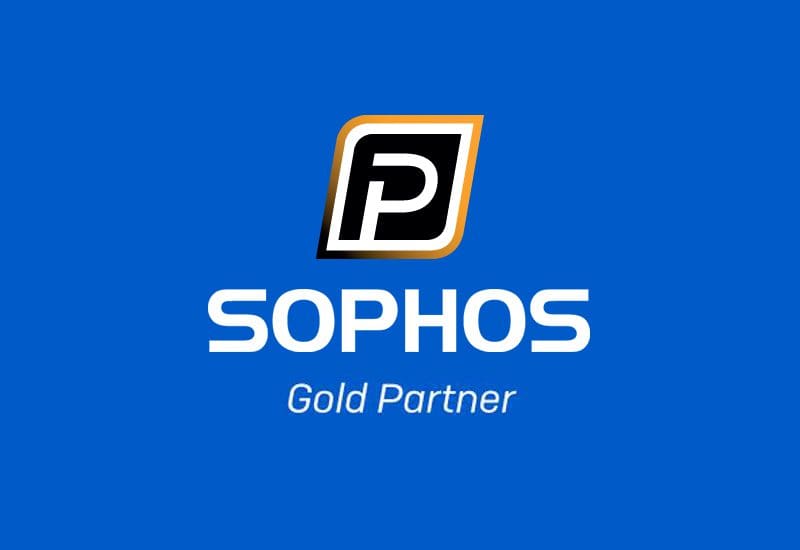 Sophos Gold Partner MSP
Sophos is the #1 Rated Managed Detection and Response Service
Sophos defends more than 500,000 organizations and more than 100 million users globally from active adversaries, ransomware, phishing, malware, and more.
Powered by threat intelligence, AI and machine learning from SophosLabs and SophosAI, Sophos delivers a broad portfolio of advanced products and services to secure users, networks and endpoints against ransomware, malware, exploits, phishing and the wide range of other cyberattacks.
Sophos provides a single integrated cloud-based management console, Sophos Central – the centerpiece of an adaptive cybersecurity ecosystem that features a centralized data lake that leverages a rich set of open APIs available to customers, partners, developers, and other cybersecurity vendors. Intercept X and synchronized security set the foundation for safety and compliance while endpoint, network, and ransomware protection provide the ultimate security for any organization.
As a Sophos Managed Service Provider (MSP), GDC implements, deploys, and manages comprehensive next-gen cybersecurity solutions for businesses seeking advanced protection from cyber threats.
Better Cybersecurity Outcomes
Continue reading for more on the Sophos product portfolio, and find the solution that best suits your business requirements:
Extended Detection and Response
Designed for both security analysts working in dedicated SOC teams and IT administrators covering security and other IT responsibilities, Sophos XDR enables organizations to quickly answer business critical questions and respond remotely.
Incident Response
If you are in the middle of an active threat, call the Sophos Incident Response Services any time to speak with an Incident Advisors. The team will advise on the fastest, most effective plan of action, with most customers fully triaged within 48 hours.
Zero Trust Network Access
ZTNA is a brand new Sophos Central cloud-delivered, cloud-managed product to easily and transparently secure important business applications with granular controls, solving the challenges with remote access VPN solutions.
Switch Series
The Switch Series offers a range of cloud-managed, network access layer switches to connect, power, and control device access at the LAN edge. Manage your switches through a single pane of glass with Sophos Central – right alongside all your other Sophos security solutions.
Cloud Native Security
Provide comprehensive multi-cloud security coverage across Amazon Web Services, Microsoft Azure, and Google Cloud Platform environments, workloads, and identities to detect and remediate security risks and maintain compliance.
Cloud Email Security
A cloud email security solution delivered easily through Sophos Central's single management console. It protect sensitive information, and end users, from malicious email threats using the latest in artificial intelligence.
Secure Wireless Management
Manage and secure your wireless networks easily and effectively – on its own or as part of your Sophos Central portfolio of cloud-managed security solutions.
Phishing Threat Security
Organizations face a relentless stream of spam, phishing, and advanced socially engineered attacks. End users make for easy targets, and are often the weakest link in your cyber defenses. You can rectify this with Sophos Phish Threat, offering effective phishing simulations, automated training, and comprehensive reporting.
Mobile Threat Defense
Sophos Mobile is a Unified Endpoint Management (UEM) and Mobile Threat Defense (MTD) solution. Spend less time and effort managing and securing traditional and mobile endpoints.
Full Disk Encryption
Each year, millions of laptop computers are misplaced, stolen, or lost. Plenty of those devices hold important and sensitive data. Full disk encryption is the essential first line of defense to protect your data should a device go missing.
Server Workload Protection
Secure your cloud, on-premises, and virtual servers from the latest cybersecurity threats with Sophos Intercept X and its comprehensive, defense in depth approach to server security. The powerful defensive techniques and visibility capabilities in Intercept X offers organizations the very best protection against the latest threats.
Cloud Security Posture Management
Cloud Optix, the Sophos Cloud Security Posture Management Solution, minimizes risks to your organization from unsanctioned activity, vulnerabilities, and misconfigurations across Amazon Web Services (AWS), Microsoft Azure, and Google Cloud Platform public cloud environments.
Sophos. One Vendor. One View.
Manage all your products in one place.