SharePoint Digital Asset Management Can Help Your Business Thrive
Organize All Your Company's Content in One Place with a SharePoint Content Database
Carley Kimball, Media Specialist
SharePoint content databases have become a popular way of implementing the platform. Utilizing Microsoft SharePoint as a digital asset management system can help companies organize, prioritize, and manage all their content in one secure platform. In this article, we will break down the many features of SharePoint digital asset management and how best to utilize it in your organization.
SharePoint Offers a Cental Location to Manage Digital Assets
By implementing SharePoint as a file system, companies can easily store, share, and collaborate on content all within the same platform. Teams will likely see an increase in productivity because less time will be spent on passing documents back and forth through traditional methods like email.  
With SharePoint digital asset management, employees can take advantage of smart search capabilities, streamline workflows, create templates, and even use AI to automate policies and other documentation. SharePoint goes well-beyond traditional document management in its ability to set properties, manage unstructured data, and handle multimedia assets. SharePoint has the capability to function as a player and manager for video and audio as well from a portal, team, or publishing site, from a community-generated site, and from managed learning and training sites.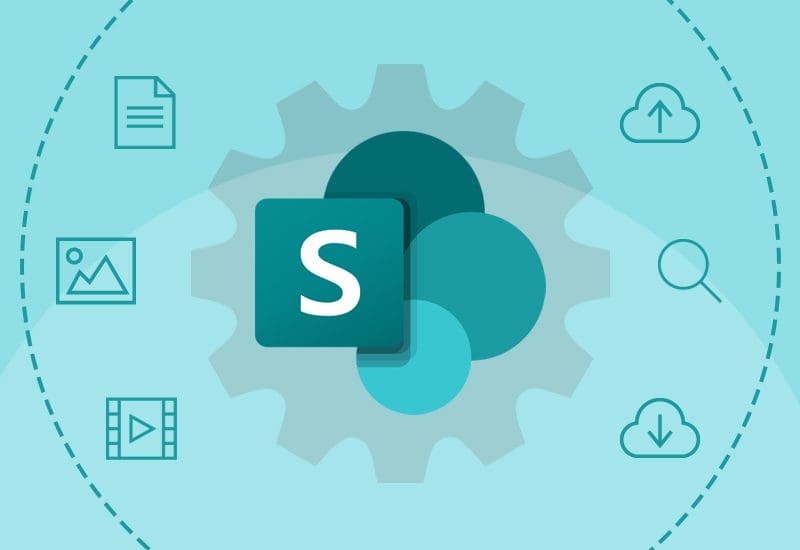 Organize, prioritize, and manage your content in one secure platform utilizing Microsoft SharePoint as a digital asset management system.
The
Document Information Panel
allows users to browse and edit document properties (metadata) directly in the document. Users can connect related content through Document IDs to create collections within SharePoint file systems. SharePoint digital asset management also benefits from the ability to set up alerts and notifications, making it easier than ever to collaborate with remote or hybrid teams.
Track Trends with SharePoint Metadata Management
Metadata can be easily found and organized through the creation of term sets and groups, allowing teams to recognize and track trends to stay current within the industry.
The Managed Metadata Service allows users to apply formal and informal metadata to each file. Content can then be easily searched by timestamps, author, file attributes, and origins. By implementing the platform with Power Apps, that metadata can then be put into various contexts or automated into business processes or workflows.
SharePoint Content Databases Can Help Protect Sensitive Information
SharePoint prioritizes security for all digital asset management within its file systems. Managers and leadership can control access to sensitive information to specific teams or team members. Defined permissions can be scaled from single documents to entire sites.
Businesses can assure their clients that personal information is stored in a secure content database available to only those who need access to it and can be trusted to handle it carefully.
Data can be encrypted within the platform as an extra layer of security. Multi-factor authentication (MFA) can also be established as permitted users sign-in to decrease the risk of data leaks and stolen information.
With the ability to search and store documents securely, document retrieval is quick and efficient in the event of audits or litigation discovery. SharePoint's security measures make it easy for businesses to remain compliant with regulations across various fields.
Internal and External Website Digital Asset Management with SharePoint
SharePoint digital asset management shines in regard to website development. Users can streamline content creation and publishing through familiar and intuitive tools within the platform.
Master layouts and templates for various pages can establish brand consistency, especially when several team members are collaborating within the same site.
A single multitier structure implementation can keep deployment and management costs low. With the connectivity of the entire platform, content can be easily moved through workflows and approval processes to publication for both internal and external websites
Training Made Easy with SharePoint Digital Asset Management
HR departments will be able to quickly utilize SharePoint for onboarding and training processes. Informational materials will be able to be seamlessly accessed by new hires. Permission settings within SharePoint ensure that only those allowed access can create, edit and share learning content, employee reviews, and assessments.
HR will also be able to gather valuable feedback from employees to make critical improvements to training structures and processes.
Ultimately, this intuitive portal could be the answer to retaining the best talent within companies and encouraging a company culture that values career and skill development across the organization.
These highlights just scratch the surface on how SharePoint's digital asset management capabilities can help companies better manage information, improve productivity and efficiency, and ultimately develop talent within the organization and establish loyalty with valued clients.
Contact GDC's SharePoint experts today to schedule a free consultation and review how the platform can best be utilized with specific company needs in mind.