GDC Launches New Career Portal and CRM on the iCIMS Talent Cloud
Leading Managed IT Solution and Staffing Technology Provider Launches New Career Site
Chambersburg, Pennsylvania – June 21, 2021
Global Data Consultants, LLC (GDC), a leading managed IT solution and staffing technology provider headquartered in Chambersburg, Pa., announces the launch of a new career portal to attract, engage, hire, and advance IT talent using robust AI- and ML-driven solutions from the iCIMS Talent Cloud.
GDC's new career portal was designed to improve brand promotion and more effectively attract and recruit technical talent for opportunities within our company, as well as placement within Fortune 500 companies. With AI built-in, the new career portal and CRM can automate recruiting processes, dynamically engage candidates, and help reduce hiring bias with job matching and recruiting chatbot technology.
"We are excited to team up with iCIMS to attract technical talent that meets both our internal workforce needs and the demands of our workforce and staffing solutions customers. Built with the iCIMS Talent Cloud, our new career site delivers a digital experience that engages qualified candidates and provides a more personalized experience for members of our vast talent network," said Mike Jackson, Senior Vice President of Business Development. "The enhanced recruiting platform with the CRM will serve to strengthen our position as an employer and differentiate our talent network and workforce solutions for our customers."
GDC selected the iCIMS Talent Cloud to enhance the digital experience to:
Alert candidates of new job openings that suit their skills and experience.
Provide candidates with an intuitive, mobile-friendly browsing experience with streamlined navigation.
Improve search and filtering of job opportunities by keyword, zip code, and drive time (commute) proximity.
Allow candidates to ask questions via a conversational AI chatbot called Eve.
Connect with candidates anywhere, anytime, via the SMS or Text messaging apps they use the most.
Forge stronger candidate relationships, enhance GDC talent networks, and find the best candidates faster.
Streamline our entire approach to candidate engagement, build talent pipelines, and use machine learning to automatically surface the right talent for the job opportunity.
Automate personalized, branded communications and engage candidates based on defined talent segments.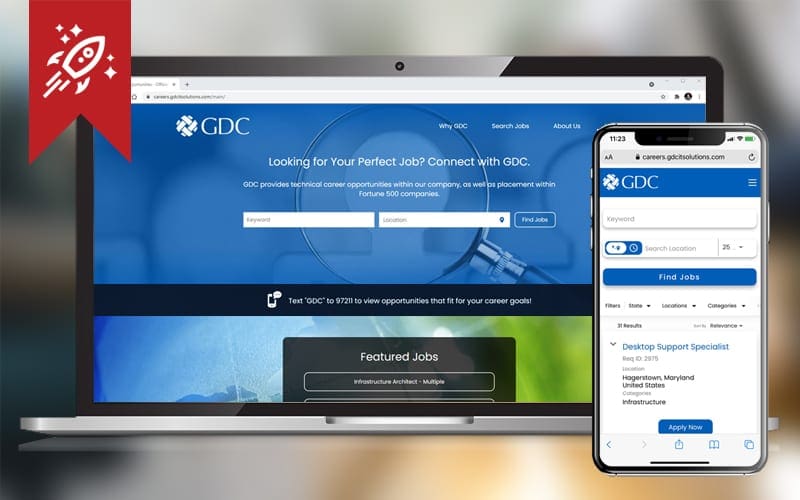 GDC provides technical career opportunities within our company, as well as placement within Fortune 500 companies.
We go beyond the resume. Our recruiting team will get to know your skills, strengths, and preferences to help you meet your career goals. Starting the process is simple, join our talent network to connect with one of our career specialists today.
About Global Data Consultants
Global Data Consultants, LLC empowers businesses to increase employee productivity, maximize investments and improve operational efficiencies. With experienced and certified professionals, GDC delivers services in the areas of application development, data center, 24/7 multilingual service desk, managed IT services, desktop lifecycle management, project management, and business process consulting.  Learn more at gdcITsolutions.com.