Choosing the Best Digital Experience Platforms for Your Business: Kentico vs. Sitecore
Comparing Features and Benefits of Xperience by Kentico and Sitecore Experience Platform to Choose the Best Digital Experience Platform For Your Business.
Kelsey Young, Copywriter and Media Specialist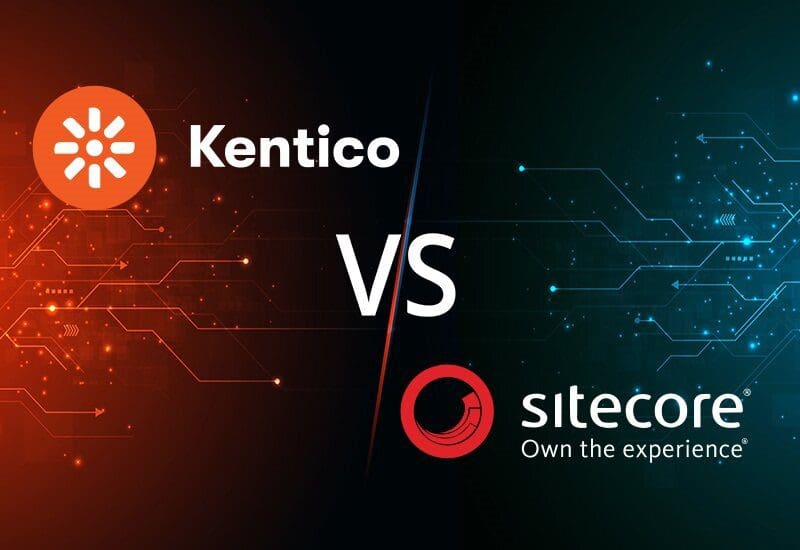 For a business to be competitive, it is critical for them to maintain a strong online presence and successfully navigate the digital landscape to reach their target audience.
A digital landscape is the primary area in which a business engages with customers, promotes products, or services, and gathers valuable data and insights. This includes websites, mobile apps, social media platforms, e-commerce sites, search engines, online advertising, digital content, and more.
In today's digital landscape, it is entirely possible for your customer to engage with your business without ever talking to a company representative. Because they engage with business online. This is called the Digital Experience and refers to the interactions and engagement individuals have with digital technologies, content, and platforms. These areas could be websites, mobile apps, and social media that participate in social interactions and consuming digital media.
The truth is the quality and impact of these digital interactions on end users' perceptions, emotions and overall satisfaction is critical to a business's success. But how to manage it all?
In the ever-evolving digital landscape, selecting the right digital experience solution for your company is crucial. GDC IT Solutions (GDC), partners with two of the leading Digital Experience Platforms on the market, Xperience by Kentico and Sitecore Experience Platform.
Both companies offer robust digital experience platforms, but they have unique features and capabilities that can impact your organization's online presence.
What is a Digital Experience Platform?
A Digital Experience Platform (DXP) is a multifaceted software solution designed to streamline the creation, management, and delivery of digital experiences across diverse digital channels and touchpoints. It incorporates several essential components and functionalities. These platforms enable multichannel content delivery, ensuring a consistent brand presence across websites, mobile apps, social media, and more.
DXPs typically include a robust Content Management System (CMS) for content creation and organization, allowing organizations to tailor content for different audiences and personalize it based on user behavior.
Personalization is a central feature, driven by data and analytics, which helps deliver tailored content and experiences to individual users or segments. DXPs also offer tools for user experience optimization, data integration with various systems, marketing automation, and analytics to enhance engagement and conversions. Security, compliance, scalability, and developer-friendly customization options are additional aspects that make DXPs a comprehensive solution for modern digital experience management.
DXPs empower organizations to provide personalized, engaging, and data-driven digital experiences while ensuring scalability, security, and compliance with industry regulations. These platforms play a crucial role in enhancing customer engagement, optimizing marketing efforts, and adapting to the evolving digital landscape, contributing to business growth and success in the digital era.
Kentico
What is Xperience by Kentico?
Xperience by Kentico is a hybrid headless digital experience platform designed to help businesses drive better outcomes with fewer resources by minimizing overhead and maximizing ROI. The DXP allows businesses to create and manage dynamic websites, online stores, and personalized digital experiences for their customers. It offers a wide range of features and tools to streamline content management, e-commerce, and online marketing efforts.
Benefits of Xperience by Kentico:
All-in-One Solution: One of the standout features of Xperience by Kentico is its all-in-one approach. It combines web content management (WCM), e-commerce, online marketing, and customer experience management in a single platform. This integration simplifies the management of digital assets and streamlines marketing campaigns, making it an excellent choice for organizations seeking an efficient solution.
Content Personalization: Xperience by Kentico excels in delivering personalized content to users. It uses visitor behavior data to tailor content and offers, ensuring a customized experience for each visitor. This level of personalization can significantly improve engagement, conversion rates, and customer satisfaction.
Strong E-commerce Capabilities: Xperience by Kentico provides a powerful e-commerce solution that allows businesses to create and manage online stores with ease. It supports product catalogs, shopping carts, secure payments, and various marketing features to boost online sales.
Scalability and Flexibility: Xperience by Kentico is known for its scalability and flexibility. It can adapt to the needs of both small businesses and large enterprises. With its modular architecture, organizations can add or remove features as their requirements evolve over time.
Multilingual and Multisite Support: Xperience by Kentico provides powerful multilingual and multisite functionalities. This enables firms to oversee multiple websites and content in various languages through a unified platform.
Headless Content, Delivered Anywhere: Choose whether to visually build your website leveraging Microsoft technologies to create custom .NET standard libraries or ASP.NET Core and ASP.NET Core MVC applications connected with Xperience by Kentico or code your own Single Page Application in any of the modern front-end frameworks like React, Angular or VueJS.
Sitecore
What is Sitecore?
Sitecore is the leading provider of an end-to-end composable digital experience platform, empowering brands to make unforgettable connections with their customers. Their DXP products and solutions empower organizations to deliver personalized and engaging digital experiences across various channels, including web, mobile, and social media. It offers a wide range of features for content management, marketing automation, and analytics.
Benefits of Sitecore Experience Platform:
Robust Personalization: Sitecore Experience Platform is renowned for its advanced personalization capabilities. It allows businesses to create highly targeted and context-aware content based on user behavior, preferences, and demographics. This level of personalization can significantly improve customer engagement and conversion rates.
Full Integration with Microsoft: Sitecore Experience Platform is optimized to leverage the speed, power, and scale of Microsoft technologies and seamlessly integrate with products, such as Azure, Dynamics 365, and SharePoint. Drive digital transformation faster and elevate the overall experience for organizations already invested in the Microsoft ecosystem.
Enterprise-Level Scalability: Sitecore Experience Platform is designed to meet the demands of large enterprises with high traffic volumes. It offers features like load balancing, redundancy, and failover support to ensure high availability and performance, even during peak traffic periods.
Machine Learning and AI: Sitecore Experience Platform leverages machine learning and artificial intelligence (AI) to provide insights into user behavior and content effectiveness. This data-driven approach enables organizations to refine their digital strategies and optimize customer experiences.
Multi-site and Multi-Tenant Support: Sitecore Experience Platform offers a range of choices when it comes to putting together content and information architecture to suit the business. This includes the ability for a single Sitecore implementation to host multiple tenants, sites, and channels. The separation between multi-site and multi-tenant is important, as multi-tenancy introduces a whole new level of governance which needs to be considered both in architecture and management.
Multilingual Support: For businesses with a global presence, Sitecore Experience Platform offers robust multilingual and multicultural capabilities. It allows organizations to manage multiple websites and content in different languages from a single platform, making it easier to tailor site content to a variety of languages and markets for a consistent brand image worldwide.
In Summary
Both Kentico and Sitecore are powerful digital experience solutions, each with its own set of unique benefits. Xperience by Kentico stands out with its all-in-one approach, content personalization, and strong e-commerce capabilities. On the other hand, Sitecore Experience Platform excels in robust personalization, integration with the Microsoft ecosystem, and advanced AI-driven insights.
The GDC Advantage
As your strategic partner, GDC can offer a breadth of IT solutions tailored to your organization. Reach out to your dedicated Account Manager or contact us to begin your discovery journey with a DXP implementation.
Our dedicated professionals understand when choosing between these platforms, it's essential to consider your organization's specific needs, existing technology stack, and long-term goals. They will discuss key factors such as scalability, personalization requirements, integration preferences, and budget constraints.
Both Xperience by Kentico and Sitecore Experience Platform have the potential to transform your digital presence and enhance the overall customer experience. Whichever platform you select, GDC will be your partner every step of implementation and beyond.
Take the first step to driving your business's growth with GDC and DXP.