Cyber Security Insurance: What Does It Cover and Who Needs It?
Cyber Insurance Helps Protect Your Business from Damages Caused by Cyber Security Threats
Kelsey Young, Copywriter and Media Specialist
If your businesses operate on an online platform, or if you store data online, then your business needs Cyber Insurance.
According to Nationwide, general liability insurance policies typically cover you and your company for claims involving bodily injuries and property damage resulting from your products, services, or operations.
But what happens if someone in your company, maybe even you, falls victim to a cyber threat actor? Sensitive data such as Social Security numbers, credit card information, account numbers, driver licenses, health records and more could all be comprised.
In these cases, general liability insurance does not cover any costs associated with a data breach.
Why Should You Should Have Cyber Insurance?
The scenario outlined above happens every day. In today's digital world, businesses of all sizes are at risk of suffering from a cyber-attack. Every day, companies are exposed to the risk of malicious attacks, data breaches, and other cyber-related incidents.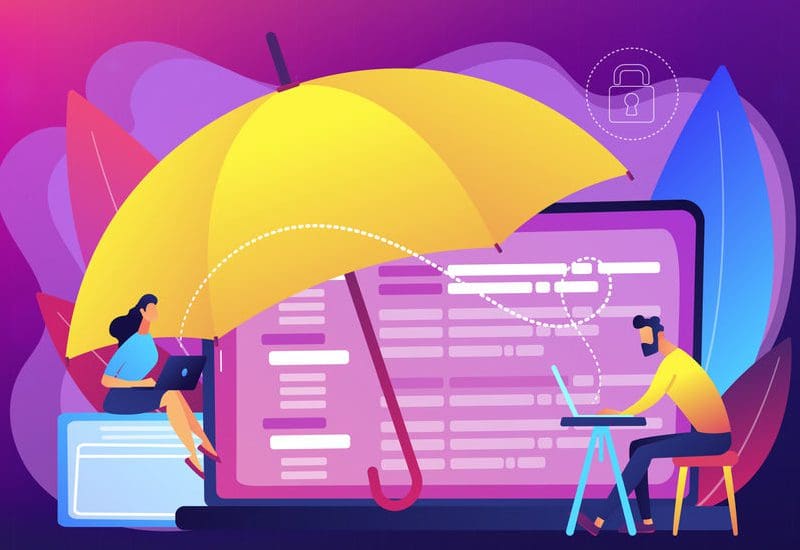 Cyber insurance helps businesses to protect themselves against the financial losses that can occur due to such events. It provides companies with financial protection in the event of a data breach or cyber-attack, which can include the cost of restoring lost data, hiring a forensic specialist to investigate the incident, notifying customers of the breach, and providing credit monitoring services.
This is why any business that operates online needs to consider adding cyber insurance to their business owner's policy.
The Dangers of Not Having Cyber Insurance
Cyber insurance is an important tool for businesses to protect themselves from the financial losses that can result from a cyber-attack or data breach.
Without cyber insurance, businesses may be liable for the costs associated with responding to an attack or breach, such as the cost of restoring data, legal and consulting fees, lost business income, and other related expenses. In addition, businesses may face reputational damage following a data breach, which can lead to lost customers and revenue.
Furthermore, businesses may be subject to regulatory fines or penalties for failure to comply with data security laws.
What does Cyber Insurance Cover?
Cyber insurance helps cover the expenses related to notifying customers, restoring personal identities the breach affected, recovering data, and repairing network systems. According to Travelers Insurance, your cyber insurance can cover the following:
Notifying Customers
The law mandates if there is a breach, the organization must notify customers. Traveler's insurance cites this process can average 1.72 million dollars. Cyber insurance would refer the customer to a law firm to assist and counsel those affected by the breach.
Lost Data
Companies may be held liable for any personal data that is exposed. Regardless of where your business is storing the data yourself, or through a third party. This includes personal information as well as health records.
Companies may be held liable for any personal identifiable information, financial data, or health-related data that is exposed whether they are storing the data themselves or through a third party.
Missing Devices
The costs for a single lost device can include more than just the retail cost, such as legal costs, investigation, and miscellaneous expenses. Cyber insurance provides protection for failure to prevent unauthorized access to, or use of, data containing private or confidential information of others.
Forensics
Computer forensics teams can determine the extent of a breach and whether private customer information may have been compromised. Having cyber insurance would provide coverage for potential business loss and extra expenses that may occur during the period of business restoration.
Steps to Obtain Cyber Insurance
Before exploring cyber insurance policies, you should consider partnering with an IT (Information Technology) professional to do a risk assessment. Most insurance companies will require an assessment prior to awarding coverage.
This will help you determine the level of coverage needed and the types of insurance policies that best meet your needs.
This is where Global Data Consultants, LLC (GDC) can help. Let GDC's technical experts examine your network to detect, prevent, and react to threats from internal and external sources. We identify single points of failure and provide contingency plans for quick recovery, increasing the productivity of your business.
By conducting an IT security assessment prior to requesting a quote, you can test your business to find roadblocks, show vulnerabilities, and address the overall security and health of your IT footprint. Your IT assessment provider will provide a report with actionable recommendations and insights you can use to help fortify your valuable business assets.
After completing your security assessment, it is time to shop around for a cyber insurance policy. Sometimes this can be as simple as contacting your insurance provider and requesting a quote.
What are the Different Types of Cyber Insurance Policies?
It is important to compare different policies and ensure that the coverage provided meets your business's requirements based on the risk assessment. When comparing policies, consider price, coverage limits, and the quality of the insurer's cyber security services.
First Party Coverage
First party cyber coverage protects your data, including employee and customer information. This coverage typically includes your business's costs related to:
Legal counsel to determine your notification and regulatory obligations.
Recovery and replacement of lost or stolen data.
Customer notification and call center services.
Lost income due to business interruption.
Crisis management and public relations.
Cyber extortion and fraud.
Forensic services to investigate the breach.
Fees, fines, and penalties related to the cyber incident.
Third Party or Cyber Liability Coverage
Protects your business if a third party sues you for damages because of a cybersecurity incident.
Attorney and court fees associated with legal proceedings.
Settlements and court judgements.
Regulatory fines for noncompliance.
How Do I Know Which Policy is Right for Me?
Your business is unique, and your cyber insurance should fit what you need.
According to the Federal Trade Commission at bare minimum your policy should cover:
Data breaches, incidents involving theft of personal information.
Cyber-attacks on your data held by vendors and other third parties.
Cyber-attacks and breaches of your network.
Cyber-attacks occur anywhere in the world, not just in a single country.
Terrorist attacks.
Policies regarding these instances will use language such as:
Defend you in a lawsuit or regulatory investigation. Look for language that includes "duty to defend."
Provide coverage in excess of any other applicable insurance you have.
Offer a breach hotline available every day of the year.
Once a policy is chosen, businesses should work with their insurer to customize the coverage.
Finally, review your cyber insurance policy annually, or when they experience changes to their business or cyber security risk profile. This will ensure your policy continues to cover your risk potential.
Cyber insurance is a crucial tool for businesses to protect themselves from the financial losses that can result from a cyber-attack or data breach. Businesses should assess their risk profile, shop for the right policy, customize the coverage to their needs, and review the policy regularly to ensure that it continues to meet their needs.