Decrease Human Error: IT Automation Can Help Boost Your Business Productivity
Work Smarter by Implementing IT Automation Into Your Workflow
Editorial Team
Your company's information technologies (IT) department is vital to your business. IT systems help manage operations, facilitate communication, enhance security, and remain organized — but not without manual intervention.
While your team may work diligently, errors and inefficiencies can still happen. IT automation solutions can minimize these issues and boost your company's performance and productivity.
IT and automation have become a business necessity, accelerating IT operations in a way that humans alone cannot. Implementing IT automation into your business can increase efficiency and help you succeed.
Getting a full look at how IT Automation can benefit your workflow can seem like a daunting task. GDC can help you break down automation solutions and decide what systems are best for your business. Whether you're looking for guidance on an IT automation initiative or have a specific pain-point that falls under one of our capability areas, GDC is here to serve as your premier IT solution provider.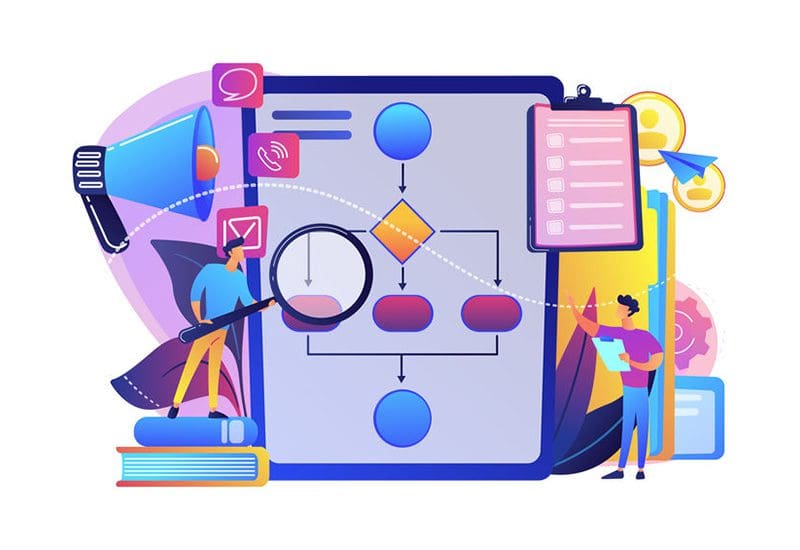 What Is IT Automation?
IT automation minimizes manual efforts and replaces repetitive processes with automatic systems. Through IT process automation, various frameworks, tools, and appliances complete repeatable tasks with minimal administrator intervention. This process accelerates IT infrastructure and application delivery, helping organizations save time while enabling IT teams to dedicate their efforts to more strategic endeavors.
Automation in the IT industry relies on tools to conduct operations manually or through an external trigger. Once initiated, these solutions handle actions and responses between administrators and IT environments. IT automation processes vary by application and range from simple to complex, so companies can automate anything from single steps to disparate sequences.
What Can IT Process Automation Be Used For?
With IT automation, the process improvement opportunities are endless. Information technology and automation solutions suit multiple applications and simplify tasks by eliminating manual interactions.
Some of the many uses for automation in IT include:
Application deployment: Automation solutions facilitate more systematic application building, testing, and deployment, leading to increased throughput and reduced errors for successful deployment.
Incident management: IT automation helps companies respond to significant incidents and restore services quickly and accurately, resulting in potential cost savings.
Security and compliance: Automation in IT is ideal for improving security, risk management, and compliance by automating each step within an organization's infrastructure. Security efforts become more proactive, and compliance becomes easier.
Cloud automation: This process allows users to automate cloud management, provisioning, and configuration in various cloud environments.
Resource provisioning: Automated provisioning allows for the automatic setup of IT systems that cooperate with existing infrastructure and management tools.
Configuration management: Automating configuration management tells IT resources what to do, helping better define and manage infrastructure.
IT migration: With IT migration automation, automatically move data from one system to another faster and more smoothly.
Benefits of IT Automation
By automating vital, repetitive processes, you heavily contribute to your business's overall success. Automation in IT helps organizations achieve considerable improvement across different areas, each of which plays a part in your company's achievements. The primary benefits of IT automation include the following.
Reduced Costs
Though installing automation technologies can seem expensive initially, these systems help companies save more money in the long term.
Many redundant tasks require additional labor and increased human resources, resulting in higher costs. Automating these repetitive operations within your organization minimizes the need for manual intervention, reduces human errors, and maximizes operational efficiency.
Automation also allows you to task your staff with more important responsibilities to further your business. Together, these benefits lead to reduced operational costs for your company.
Increased Productivity
Automating your company's workflow is an excellent way to boost overall productivity. Your workers can only achieve a certain level of efficiency, and they can become fatigued over time. They also require breaks throughout the day, leading to necessary downtime. Automated IT solutions can work around the clock efficiently while maintaining their abilities.
When automated technologies take over your organization's repetitive tasks, your workers are free to dedicate their energy to more critical projects, getting more work accomplished each day.
Enhanced Availability
Your systems must be up and running at all times to promote continuous operation. IT process automation can ensure that your systems function as intended.
Automation technologies can monitor systems 24/7 to ensure consistent operation. These solutions can also automatically save and recover data in the event of losses. With these functions in mind, IT automation keeps systems running smoothly while preventing downtime for your company.
Better Performance
Businesses have attempted to keep up with rapid industry growth by maximizing IT task completion, putting more pressure on workers to perform these jobs faster and more efficiently. Though this increase in productivity may be achievable, it can result in a stressed and tired workforce, leading to increased human error. The alternative — adding more individuals to your staff to distribute the work more evenly — can be expensive.
You can help your employees and streamline IT operations by implementing IT automation solutions into your systems. Automation reduces the need to hire more workers or overwork existing ones while boosting your company's overall performance.
Making the Case for IT Automation Within Your Organization
Automation in the IT industry can seem daunting to new users. The good news is that IT automation is simple, streamlined, and efficient, helping companies achieve more in less time with impressive accuracy. You can help your organization better understand these benefits and accept automation in the workplace by embracing the right strategies.
Connect IT Automation to Your Business Goals
Your company's decision-makers must understand how IT automation solutions will help achieve business goals. Whether the objective is to lower operating expenses, increase productivity, or reduce employee turnover, you must explain how automating your company's IT directly impacts these goals. Relating automation technologies to the bigger picture is an excellent way to show how they will ultimately further your business.
Emphasize the Value of IT Automation for Workers
In addition to convincing decision-makers the value of IT automation, you should do the same for employees. Workers want to know how your automation strategy will benefit them in their day-to-day workflow.
It's important to explain that automation solutions for IT will release employees from performing monotonous manual tasks in favor of more dynamic, strategic work. Be sure to paint a clear picture of what their jobs will look like before and after automation implementation to get more people on board.
Break Down Your IT Automation Plan
Many people have misconceptions about IT automation — for example, some believe that these systems are too complex or will take jobs away from deserving workers. The best way to relieve skepticism is to outline your automation plan in a concise, straightforward way that your team will understand. Breaking down your strategy makes it appear more manageable and easier to digest while eliminating any preconceived notions that might cloud people's judgments.
This step offers the chance to accept questions and feedback. Your system will run more efficiently if all employees understand the procedure. Be sure to address all pain points, offer learning resources, and make it clear that this will enhance their job overall.
Invest In IT Automation Solutions From GDC Today
You can experience the benefits of IT automation for your organization with dependable IT services from GDC. We're dedicated to providing innovative technology and business support to companies of all sizes. We help businesses streamline workflows by integrating new IT services while maintaining existing ones.
We pride ourselves on our ability to deliver world-class technical support while providing personalized assistance and clear communication. When you come to us for IT services, we'll provide you with a free remote or on-site assessment, where we will evaluate your current IT posture and develop a solution uniquely tailored to your needs.
Let us help you improve your IT infrastructure. Get in touch with one of our experts to learn more about our IT automation solutions today!