What Is a Managed Service Provider?
Get the Most Value Through Outsourcing IT to a Managed Service Provider
Editorial Team
A managed service provider (MSP) is a specialized company that assists customers with managing certain services from a remote location. Often, this term is used to describe third-party organizations that provide outsourced IT services to help businesses manage their network, infrastructure, security, monitoring, and end-user system applications.
Large companies usually have their own IT divisions that can handle these operations, while small and medium-sized businesses (SMBs), government agencies, and nonprofit organizations often benefit from hiring MSPs for various management services. IT managed service providers offer experience, availability, and quality, among other helpful attributes, while increasing company productivity and reducing downtime and service interruptions.
MSP's are a great resource to help fill the needs that arise as businesses grow. Whether your organization is in healthcare, manufacturing, or another industry, MSP services can specialize in delivering assistance that enables you to run your business smoothly.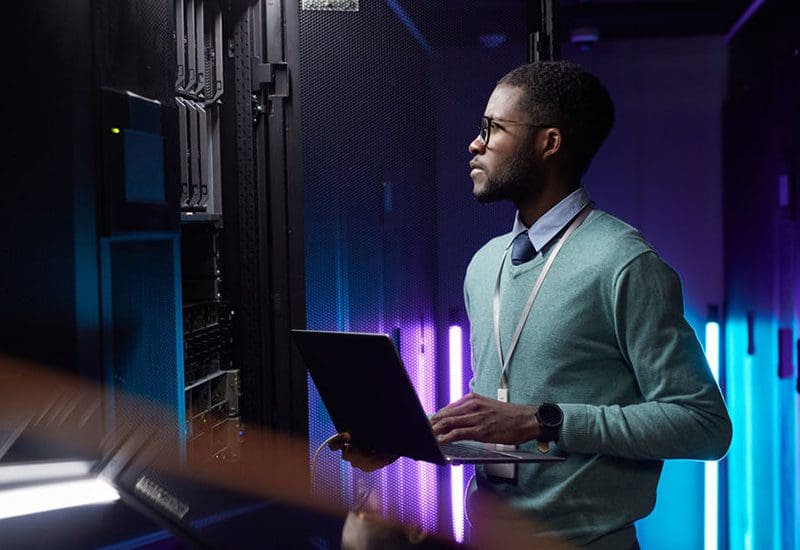 What Functions Do MSPs Manage?
Do you want to expand your business operations but don't have the workforce to do it? Or maybe there are various services you want some help with. Third-party IT service providers can assist your company in these areas and more, helping you achieve greater productivity and scale your business with ease. MSPs are used for taking care of various responsibilities, such as:
Assisting staff with technical support
Offering payroll services
Protecting IT systems with comprehensive cybersecurity
Organizing IT infrastructure according to your needs
Supervising user access accounts
Overseeing important contracts
Outsourcing for fully managed hardware
Managing risks and compliance
IT managed service providers are helpful for SMBs and similar organizations because they can easily take care of tasks when necessary, minimizing downtime and ensuring you stay current on operations.
What Are the Benefits of MSPs?
Choosing an MSP business that can manage a variety of operations offers many advantages for your company. For instance, IT managed service providers:
Types of MSPs
Once you decide to use a managed service provider to meet your business needs, you can choose from various options based on your unique circumstances. For instance, one deciding factor is whether you want a subscription service or a technical support fix service.
Subscription MSPs charge a regular monthly or other rate based on a variety of factors. These providers assist with issues as they arise. On the other hand, technical support fix services require payment for the time spent restoring systems and cost of repair.
MSPs vary in other areas as well. They can be categorized by business size, or the the type of services offered.
Business Size
Ensure you assess the MSP you choose based on the size of your business, as some may work better for your applications than others. There are three levels of MSPs, including:
Lower-level: This type of managed service provider focuses on handling IT applications and providing assistance when needed. They will inform you about issues and how to address them, and they monitor the performance of networks and applications.
Mid-level: These options offer a more comprehensive selection of services, including taking immediate steps to resolve problems. They also update software and can more easily scale to meet your needs.
High-level: These MSPs cover all the IT services you need from their facilities. The wide range of services includes options such as wireless network support, communications, and analytics. With one of these companies, you can outsource as many of your IT processes as needed.
Services Offered
You can choose the best MSP for your company based on the services they offer, which may include:
Proactive support through preventive maintenance
Centralized management for your remote monitoring, complex networks, and other applications
Remote support to assist with technical issues
Scheduled maintenance to ensure your IT processes run smoothly
Easy billing through a high-tech management system
Monitoring software for websites, servers, network devices, and more
Different Varieties
There are several types of MSPs you can select from, such as:
Managed service providers: This standard option will handle your IT tasks concerning your people and infrastructure. They can provide remote or on-site assistance and help monitor, maintain, and support your systems.
Co-managed IT service providers (Co-MIT): Co-MIT options are a hybrid of internal IT teams, client management, and MSP services.
Managed security service providers (MSSP): These companies provide 24/7 monitoring services for your networks and help you with cybersecurity management.
Managed detection and response (MDR): This MSP focuses on alerting you to potential threats, using 24/7 monitoring with machine learning and artificial intelligence (AI) to proactively detect issues.
How Can GDC Help You?
At GDC, our goal is to help businesses like yours manage IT services smoothly. GDC recognizes that the IT landscape is constantly shifting, and you could benefit from specialized services from experts. We aim to provide the assistance you need. Focusing on the customer since our founding in 1995, we're a trusted service provider to global clients.
We are the IT service provider you need for successful management. Contact us today to learn more about how we can help your company.