How Can Microsoft's Power BI Help Your Business Reach Goals?
Microsoft's Power BI Data Analytics Tool Will Help You Fulfill Customer Needs
Carley Kimball, Media Specialist
Are you thinking of implementing business intelligence into your company's strategy, but don't know where to begin? Microsoft's Power BI analytics tool might be the answer.
Power BI implements several unique features to help businesses gain a better understanding of customer interactions, improve efficiency, and more accurately plan for the future. Power BI sets itself apart from other BI tools through its secure, streamlined integration of data preparation, visual-based data discovery, interactive dashboards and augmented analytics.
Power BI Aligns with Office 365 
It may be a surprise to learn that Office 365 is used by over a million companies worldwide, with over 879,851 companies in the United States alone using the office suite software, according to Statista. Integrating Power BI into the company workflow is easy with the Office 365 suite already in place.  
Integrating Power BI into Office 365 means that there is a low learning curve that doesn't require much training – saving time and money.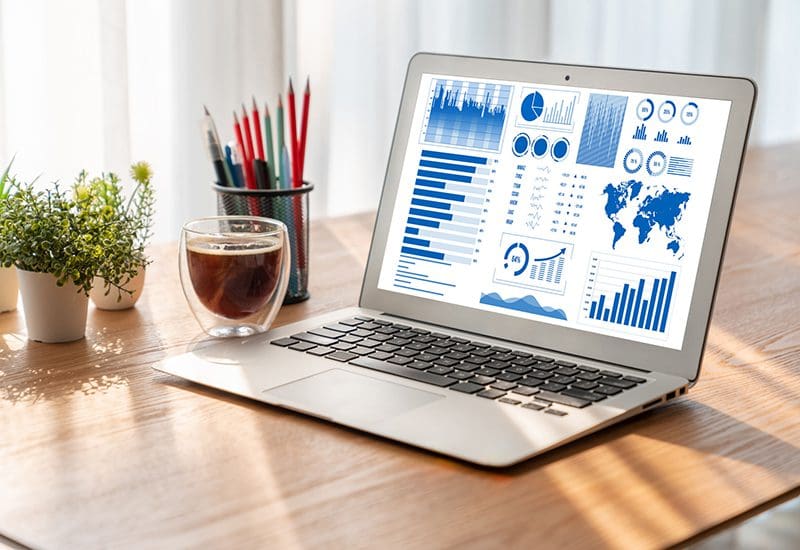 Customize Your Own Power BI Dashboard
Dashboards for services such as Salesforce, Google Analytics, and Microsoft Dynamics are already included in BI Desktop. However, Microsoft opened the door for developers to customize navigation, dive deep into report generation, and create unique dashboards so that companies can focus on the data that means the most to them. Power Apps can also be embedded in Power BI dashboards or access Power BI datasets, and Power Automate flows can be constructed to take various actions based on the data, a feature that adds greatly to the strength of the tool overall. 
Get Real-Time Metrics Through Power BI
Power BI has changed the game when it comes to analytical reporting. Gone are the days of waiting days, weeks, or even months to generate valuable reports. This tool allows you to stream analytics in real time so decision makers can move fast as trends are established – critical information in the growing e-commerce space.  
The Microsoft Power Platform combines Power BI with Power Apps and Power Automate to build business applications and automate workflows. With the integration of AI, an in-house data expert isn't necessary. The tool can prepare data, build machine learning models, and find insights quickly from both structured and unstructured data, including text and images. 
Power BI is even aligned to work with Microsoft's digital assistant, Cortana, making it possible to access charts and graphs verbally. 
Through the integration of several key forms of technology, Power BI simplifies the world of digital data to make it easier for businesses to understand and plan for a successful future. 
Power BI Offers Scalable Options for Any Budget 
Power BI is broken down into tiers – making it easier to gauge which level of the tool will work best for your business.  
Power BI Desktop is a free version that allows users to create interactive reports with visual analytics. This version can connect to over 70 on-premises and cloud data sources to visualize information. Reports can be shared to others within the platform.  
Familiar features like quick measures, grouping, forecasting, and clustering are included in this free version as well. New AI capabilities—pioneered in Azure and now available in Power BI—require no code, enabling users to discover hidden, actionable insights and drive more strategic business outcomes. 
For $10/month per user, Power BI Pro expands on the possibilities of collaboration. Share data visualization to make informed decisions, distribute findings and easily adjust permissions within a secure environment, create workspaces and more.  
With Pro, users can also embed visuals into Power BI apps, as well as integrating with other Microsoft solutions, like Azure.  
Power BI Premium is a perfect option for enterprise entities. Unlike Desktop and Pro, Premium is not an app, but an organized space. This allows businesses that are processing a lot of data to store reports within a Microsoft-hosted cloud. Allocation is flexible – businesses can choose capacity based on users, workload or additional factors.  
Published reports are able to be viewed company-wide, or even outside of the organization, without the need to licensing each viewer. Assets can be maintained on-premises through the included Power BI Report Server.   
Although understanding the full potential of Power BI for your business can seem overwhelming, GDC's experts can help guide you through the integration process. As a Microsoft Gold Partner, GDC has been working with clients on cloud-based data analytic tools like Power BI for over a decade. We can answer your questions and show you how Power BI can positively impact your business.