GDC Joins Forces with AGiRepair to Offer MAXCases
GDC to Offer MAXCases with Zero-Deductible, Unlimited Accidental Damage Protection from AGiRepair
Chambersburg, Pennsylvania – April 16, 2021
Global Data Consultants, LLC (GDC), a leading managed IT solutions and technology provider headquartered in Chambersburg, Pennsylvania, announced today it has joined forces with AGiRepair to offer MAXCases protective iPad and MacBook cases with unlimited accidental damage protection for the K-12 and Higher Education Markets.
"GDC is very excited to offer MAXCases products paired with zero-deductible, unlimited accidental damage protection from AGiRepair," commented Jeff Sauve, Vice President of Hardware Sales at GDC. "MAXCases works closely with leading technology partners to create cases that deliver a perfect fit and outstanding protective performance. Now, our clients can maximize their device investment with MAXCases protective cases plus unlimited accidental damage protection bundled by AGiRepair. This bundled offering will allow GDC to provide even more value to our clients today and in the future."
MAXCases designs protective solutions that enhance learning and help schools maximize their IT budgets and keep students learning in any environment. The company's case designs are rooted in direct input from teachers, students, and administrators, who test MAXCases products in classrooms and other real-world environments. By offering these products with unlimited accidental damage protection, GDC and AGiRepair can help eliminate unpredictable repair costs associated with a school district's 1:1 initiative. It is a hassle-free, all-in-one solution to protecting a fleet of devices throughout their lifespan.
"We are thrilled to partner with AGiRepair to provide this comprehensive solution through GDC," said MAXCases Regional Sales Director Rob Mangano. "Our rugged cases deliver outstanding protection, but the unexpected can happen. With the combination of AGiProtect and MAXCases, GDC customers can lock down their device expenses and count on a smoother school year."
About MAXCases
MAXCases designs protective cases and accessories for iPads, Chromebooks, laptops and tablets, with a dedicated focus on the K-12 education market. Combining extensive testing and customer feedback, MAXCases offers superior performance and style, as well as a world-class U.S.-based customer service department and customization options to accommodate special requests. For more information, visit www.maxcases.com.
About AGiRepair
AGiRepair is a recognized leader in the mobile device repair and wireless repair parts industry, with a steadfast commitment to offering cutting-edge repair solutions for Apple and Chromebook devices. With over 20 years of experience, AGiRepair is backed by innovative and unparalleled technical capabilities including mobile device repair, device buyback, device protection, repair parts, delamination services, LCD screen buyback, and refurbishing. AGiRepair is a division of parent company AssetGenie, Inc., founded in 2000.
About Global Data Consultants
Global Data Consultants, LLC empowers businesses to increase employee productivity, maximize investments and improve operational efficiencies. With experienced and certified professionals, GDC delivers services in the areas of application development, data center, 24/7 multilingual service desk, managed IT services, desktop lifecycle management, project management, and business process consulting.  Learn more at gdcITsolutions.com.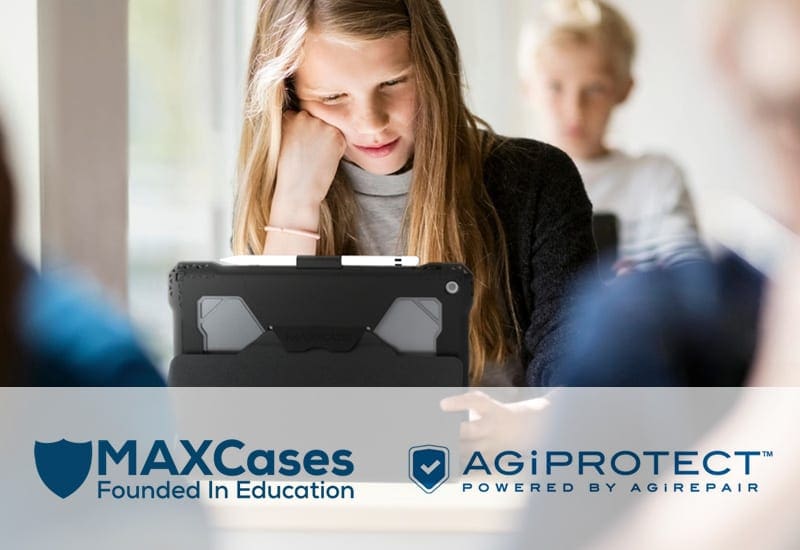 Five Reasons School Districts Rely on AGiProtect and MAXCases to Safeguard Devices for 1:1 Initiatives
All-In-One Solution. AGiRepair provides a simple solution for a complicated problem by delivering device protection from MAXCases plus unlimited accidental damage repair coverage.
One-Time Fixed Cost. AGiProtect eliminates uncertaintly and unpredictable repair costs for 1:1 initiatives. It's a simple, predictable, and affordable way to safeguard devices for 1,2,3 or 4 years
Rugged MAXCases Case. With cases from MAXCases, AGiProtect safeguards devices with highly protective, functional cases from a company dedicated to education, significantly reducing the cost of accidental damage, repairs and device maintenance.
Quality Service. State-of-art AGiProtect repair facilities deliver unmatched quality. Submit accidental damage repairs through a simple online system and automatically print free shipping labels.
Fast Turnaround Time. With 100+ experienced technicians, even the most complicated repairs are performed quickly and accurately, helping get devices back to your staff with as little inconvenience as possible.