Help Desk vs. Service Desk
What's the Difference Between Service Desk vs. Help Desk?
Editorial Team
Considering how to expand your business's IT capabilities and improve customer satisfaction? You might wonder about the difference between a help desk and a service desk and whether you need one at all. These terms sound similar, yet knowing the distinctions between the two can help you choose the best option for your organization.
Offering a service desk with the qualities you need can provide an exceptional customer experience and help you serve your customers' needs more efficiently. Learn how to compare help desk vs. service desk capabilities and decide which option can help your business solve its problems.
When comparing features, it's essential to understand each type of support and how they function.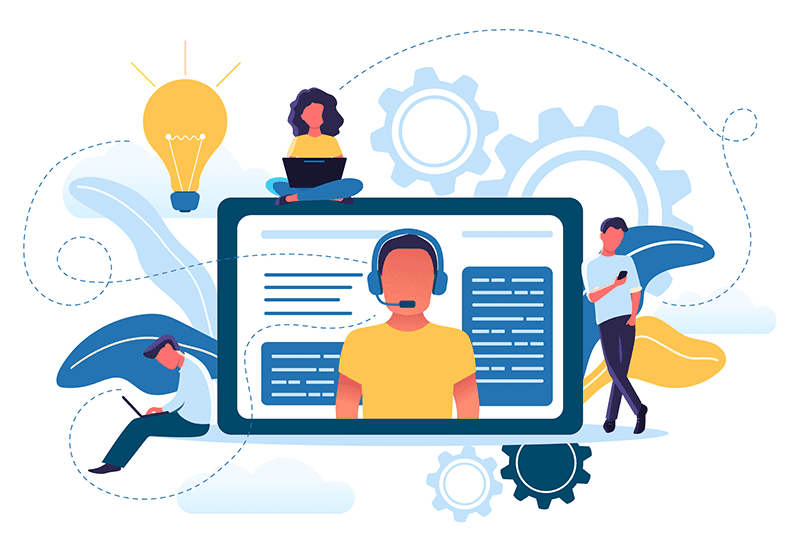 What Is a Help Desk? 
A help desk is a support center through which customers can contact a business about issues they experience with the company's product or service. The goal of a help desk is to resolve these problems quickly and efficiently to provide customers with the best possible experience. Customers can usually contact a help desk through several channels, including online chat and social media.
Help desks offer a valuable service to a company's customers. Nearly every business can take advantage of this service, from tech firms to manufacturers and other service providers.
Benefits of a Help Desk
Help desks offer a valuable service to a company's customers. Nearly every business can take advantage of this service, from tech firms to manufacturers and other service providers. With a help desk, your customer service team can provide services like:
Resolving customer complaints efficiently.
Providing enjoyable customer service.
Tracking and prioritizing tickets.
Analyzing feedback to improve the customer experience.
Examples of Help Desk Queries
A help desk can accomplish several tasks for your customer service team. Here are some common issues help desks can help solve:
Problems customers experience with a product.
Difficulties with a service you provide.
Customer incidents relating to IT.
Challenges employees have with their software.
Issues related to employee hardware.
What Is a Service Desk? 
A service desk is a support hub that connects a business's IT support staff and customer service team with customers, employees, and stakeholders. Service desks solve issues with the company's products or services and handle requests for assistance in other areas. For instance, service desks handle all kinds of communication with end-users. A service desk aims to resolve issues and process service requests efficiently to provide all users with a high-quality experience.
The benefits of having a service desk for a company's IT team have made this type of support extremely popular with customer service agents and customers alike.
Benefits of a Service Desk
The benefits of having a service desk for a company's IT team have made this type of support extremely popular with customer service agents and customers alike. A service desk allows your team to:
Seamlessly resolve customer issues.
Manage your company's IT assets.
Provide an efficient customer experience.
Increase customer service agent productivity.
Implement customer service improvements effectively.
Examples of Service Desk Queries
Service desks can effectively handle a wide range of issues and requests. Some typical service desk queries include:
Requests for services.
Queries about administration.
Issue management.
Queries from customers.
Queries from employees.
What Are the Main Differences Between a Help Desk and a Service Desk? 
The difference between a help desk and a service desk centers on each service's abilities. Service desks are broader services than help desks and address a wider range of queries. Consider the main differences between these two types of support services:
Capabilities
Whereas help desks focus more on resolving issues with the product or service, service desks center their attention on meeting the end user's needs more completely. Help desks are reactive to incidents, while service desks proactively find and implement solutions to improve the customer experience. This focus motivates many service desks to provide additional support through:
Creating self-service content to help customers resolve issues independently.
Tracking and reporting service desk data to increase efficiency and provide better customer support.
Preventing future incidents by improving the product and the support service.
Focus
A service desk places greater emphasis on service delivery than simply resolving issues. In addition to customer queries, service desks handle employee and stakeholder queries, service management, reporting, and more. Because service desks take all forms of communication with end-users, they bring the business's needs and the customer's needs into focus.
In contrast, help desks deal primarily with incident management, including infrequent issues and those that need immediate solutions.
The Importance of Service Desk and Help Desk Support
Whether a company has help or service desk support depends on the effectiveness of their processes, the size of their organization, and their customers' needs. Whichever route your organization takes, it's essential to have the right tools to support your team. Having an effective service desk support team on your side can improve many of your customer service functions.
With a service desk support solution that enables efficient ticket resolution, proactive improvements, and transparent communication, you can provide customer service and deliver more value to your organization. Service desk support should:
Tailor to your business's industry, needs for availability, and more.
Enable collaboration to proactively improve the customer experience.
Track queries, help desk metrics, and resolution time to improve efficiency.
Why Should You Choose GDC for Your Service Desk Needs? 
When your company needs powerful service desk support, outsourcing your needs to a managed IT service provider is an excellent solution. At GDC, our world-class service desk support helps organizations solve their need for issue resolution and analysis. GDC handles IT support delivery to improve the customer experience and increase your team's availability, all with an approach customized to your company's unique needs.
When you invest in GDC service desk solutions, you gain benefits like:
Reduced IT costs: You can save on infrastructure and labor by outsourcing your IT team.
Faster query resolution: We train our IT service professionals to solve tickets quickly and efficiently before escalating them up the service ladder.
Customer service best practices: Our IT experts apply their ITIL-based best practices to handle customer queries and service requests with optimal efficiency.
Every organization has different needs for its customer service desk. At GDC, our industry-proven experience equips us to provide the support you need through superior technology solutions and exceptional customer service. Through our service desk support, GDC can deliver IT services to various industries like manufacturing, government, education, healthcare, legal services, construction, automotive, and transportation.
Contact GDC for Unparalleled Service Desk Support 
Investing in service desk support means you can provide your customers and employees with world-class service and resolve issues quickly and efficiently, all through remote assistance. Service desk solutions from GDC free up your team to focus on other tasks, increase employee efficiency, and help you grow your business. Our tailored support meets you where you need it most to help you accomplish more.
Contact us today to learn more about our service desk support solutions. You can also schedule a free assessment, where we evaluate your existing technical support to provide a custom solution.