Read These Quick Tips to Take a High-Quality Professional Headshot
You Don't Need a Professional to Shoot the Perfect Professional Photo
Carley Kimball, Media Specialist
Is your LinkedIn Profile lacking a quality professional headshot? Look no further! You do not need to pay a professional to take a quality headshot to present to potential employers. This article will break down everything you need to know about creating your own professional "selfie" that will help you land that dream job or impress your current employer.
Why are Professional Headshots Important?
First impressions are so important in a competitive job market. In fact, employers can settle on a first impression of someone in just a fraction of a second of meeting them. With social media becoming more and more prevalent in our daily lives, the chances of that first impression happening on a platform like LinkedIn are exceedingly high. Statistics have shown that members on LinkedIn who include a photo on their profile receive up to 21 times more profile views and up to 36 times more messages. LinkedIn profiles with professional headshots receive 14 times more profile views.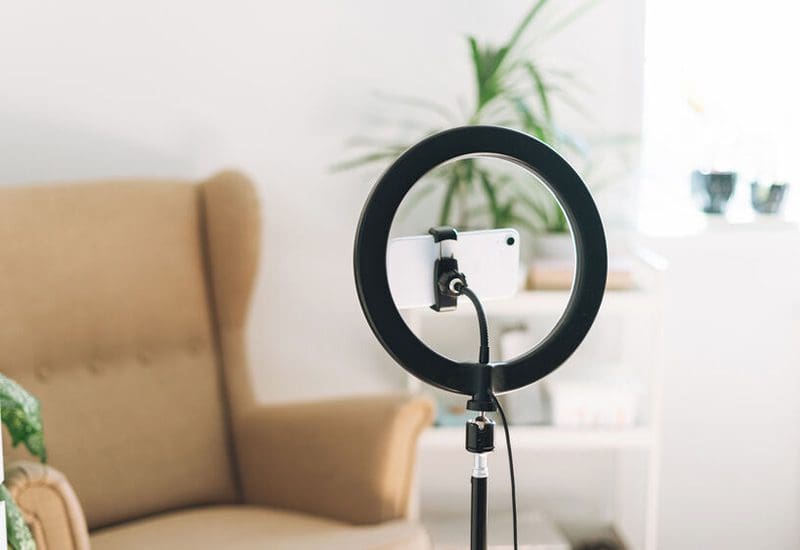 By posting a polished headshot on your social media profiles, you are taking a step in the right direction in presenting yourself as a dependable person that an employer can rely on to show up and impress clients, coworkers, and supervisors. Professional headshots can help companies expand brand ambassadorship and cultivate a sense of pride in the workplace.
Tip #1 Lighting is Everything
Proper lighting will separate the amateurs from the professionals when it comes to creating the perfect "selfie" for an online profile. While an office may be your first choice of location, it is actually best to avoid office spaces due to the harsh fluorescent lighting.
Natural light is always the best option – usually the early morning or late afternoon sun creates the best effect. Choose a location (inside or outside) that has plenty of natural light to illuminate your face. Avoid direct sunlight that might make it hard to prevent squinting when you snap the photo.
Make sure to choose a location that is not too dark – you will not want to use the flash on your phone or camera that could potentially cause a red-eye or washed-out effect.
Tip #2 Get the Proper Tools
Can't find the right space outside to take a quality photo? No problem. Ring lights are helpful tools that create just the right amount of light for a perfect headshot. Be sure to position the light to one side of your face, slightly above eye level. Using a white sheet on your lap is a pro tip that will help reflect light right where you need it – back to your face.
Never take a traditional extended-arm selfie for your professional online profile. Invest in a tripod that will hold your phone for you so that you can set an automatic timer with enough leeway to perfect your pose. Adjustable tripods are fairly inexpensive and are a nice tool that you may find yourself using more often than you think. Position the tripod close enough that you do not have to zoom, but with just enough space that you have a little bit of room to work with for cropping.
If you don't have a tripod, no problem. Ask a friend or coworker to help snap a few options so you have several to choose from. Make sure they have a steady hand and they stand close enough too give you some leeway with cropping, but not too close that you are cut out of the frame.
Download a photo editing app that can help you make simple adjustments to exposure, brightness and shadows to make a few tweaks that could take your headshot from "okay" to "hire today." Many phones have editing options built right into the galleries. But if you decide to use an app instead, there are plenty of popular free and low-cost options to choose from.
Tip #3 Choose a Good Background
An easy mistake to make when choosing a background for a professional headshot is using a cluttered, distracting space.
If taking the photo indoors, choose a neutral wall as the backdrop. Remove any clutter, power cords or photos that detract from the main subject – you!
If you've decided to take advantage of the great lighting the outdoors can provide, be sure to choose a setting that is not crowded where you have to worry about people walking through when you snap the photo. Make sure there are not too many distracting natural elements – vibrant trees, flowers, etc. If you have access to a city-scape environment, choose a location that might capture a bit of the skyline in the background – a popular option for corporate professionals.
Be sure to take note of the weather when shooting a headshot outside. Rain is not the only element that can ruin a good headshot. Blinding midday sun can cause squinting and a sweaty, ruddy complexion. A gusty day can cause flyaway hairs and a ruffled appearance. You definitely do not want to look unprepared in your headshot, which can cause a bad impression for employers.
Tip #4 Dress for Success
While many work environments have eased dress codes following the pandemic and many people can work from home in the comfort of a t-shirt and sweatpants, it is essential that you break out the suit jacket and a button-down or blouse for this photo.
Employers are pushing for people to show up in the office again and showing your LinkedIn connections that you are capable of dressing professionally can help you land the role you have been striving toward, get approval for attending a professional conference, or even put you in the running for a promotion.
When you look good, you feel good – and you will want to display that professionalism and confidence in your headshot.
Tip #5 Strike a Power Pose
The best professional headshot poses are those that feel natural, according to Head Shots Inc. But also keep in mind that you still want to have good posture and give an inviting, friendly smile.
The standard headshot pose is to straighten your back, turn your chest 10 to 45 degrees from the camera, and lean slightly toward the camera. You will see this option most frequently on your fellow professional's profiles. This can be cropped in on the face or slightly below shoulder level.
Test out a few different poses to see what feels most natural to you – arms crossed, looking over the shoulder, hands on the hips, etc.
Now that you have got the basics down for shooting a professional-quality headshot, try it out for yourself! The remarkable thing about digital cameras is that you can take as many shots as you need to get it just right. Try out various locations, outfits and poses to find the combination that fully expresses your best qualities, and you will be on your way to climbing up the corporate ladder in no time.
About GDC IT Solutions
GDC IT Solutions (GDC) is a Premier IT Service Provider with the goal of helping businesses proactively manage and protect their information technology. Recognizing that is an industry that is competitive and constantly changing, GDC realized early that the key to growing was to understand the industry and stick to these fundamental business principles — employ the best talent, excel in the delivery of technical services, and focus on customer satisfaction.
With experienced and certified professionals, GDC delivers services in the areas of managed IT service, application development, data center, 24/7 multilingual service desk, desktop lifecycle management, project management, and business process consulting.