How Do Business Owners Manage Ever-Evolving Information Technology Needs?
Hire an IT managed service provider to keep you focused on growing your business.
Kelsey Young, Copywriter and Media Specialist
As a business owner, you may feel like that dog, Doug, from Disney's UP. You are focused on one task when suddenly the squirrel appears, and you are distracted by the new problem. These small, but constant distractions add up over your workday, leaving what you started for the next day. Unless you want to stay at work later to complete it.  
These small interruptions could be from your clients' needs, questions from employees, marketing, social media, accounting, or even worse, your computer systems malfunctioning.  
When your network is not working, your entire business suffers. The last thing you want to worry about is having to take time out of your day to troubleshoot those interruptions to your network. Troubleshooting IT issues could take hours, even days to fix an issue. Meanwhile your business is offline, unable to function. 
Are you nodding along to any of these points? If this sounds familiar, a solution to oversee your IT needs would be hiring a managed service provider (MSP).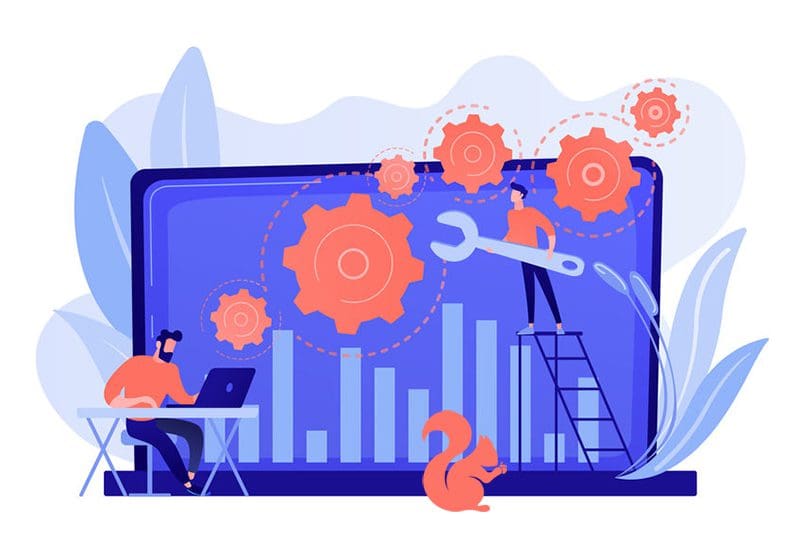 The Benefits of Managed Service Provider
The IT infrastructure is among a company's most valuable assets. Establishing, supporting, and updating that infrastructure requires tremendous amounts of time, money, and labor to manage it effectively.
For example, the recruiting or search process for one computer technician could take several months. Then the onboarding process of the new employee takes days to get them set up with equipment and access to your business's essential software.
That is just one employee. As your business grows, so will your IT needs. If you have an in-house IT team, they may be able to handle some of the increase workload, eventually the workload and demand will become too much. Contracting with a managed service provider for your IT needs frees up your resources to focus on other aspects of running your business.
Here are eight reasons companies choose to hire a managed IT service like Global Data Consultants, LLC (GDC):
Customizable: Your business is unique. And what works for another company might not work for your business. An MSP evaluates your current infrastructure and discusses the goals you have for your business before they suggest a customized plan that will enhance your company. Furthermore, as your business evolves, your technology requirements can change. Instead of hiring a new professional, which could take months, you discuss with your account manager about amending your service level agreement (SLA).
Expertise: MSP's have a network of IT experts who have the knowledge and experience to analyze your current network and suggest improvements that will increase your business's productivity and keep your data secure. When you sign your SLA with your MSP, the company will assign an account manager (or other similar title) to work with your account specifically. This person will familiarize themselves with your company, values, and goals. But that individual has an entire team of certified and experienced IT professionals available to collaborate and troubleshoot any additional issues if they arise.
Reliability: Today, business operates at a considerable pace at all times of the day with an expectation of IT support day or night. Unless you have in-house staff to monitor and manage your systems outside standard -business hours, adding a reputable MSP like GDC IT Solutions provides additional support options to augment after-hours support including the availability of a multilingual IT Help Desk available 24/7. Leveraging an MSP for your business provides IT support for both employees and clients during times when an in-house team may not be available.
Efficiency: When you work with an MSP, you are contracting a managed IT service model where you can rely on the ability and experience of their certified technicians and engineers. They will provide a streamlined IT experience with proactive monitoring based on IT industry best practices and security recommendations. There is no longer a need to interview, hire, onboard, and train in-house IT professionals. However, if you do have an in-house IT resource, an MSP can supply the added support they need to manage your IT needs.
Technology: Do you know the latest trends in technology? Do you have the time to research them? Your MSP will be up to date with the latest trends, hardware, software, licensing requirements, and security recommendations. They also will have partnerships and affiliations with companies such as Dell, Lenovo, Microsoft and more. By partnering with an MSP, you have access to industry-proven technology and experts to help you navigate the latest technology offerings.
Security: According to GDC partner, KnowBe4, cybercrime happens every 36 seconds which is an average of 2244 attacks a day. Working with an MSP means your business has access to their cyber security professionals to strengthen your security posture. Additionally, they have access to industry partnerships, and software to proactively address IT issues before data breaches occur.
Affordable: Working with an MSP can be more cost-efficient than maintaining in-house resources. You do not have to train new employees, acquire industry certifications, or try to find a generalist that can support your business. Managed IT services provides fixed monthly costs to allow you to plan your annual budgets. Your MSP can provide quotes for IT Infrastructure upgrades and end-of life planning to incorporate into your budget.
Peace of Mind: Hiring an IT MSP means your company is partnered with field experts who will take care of your business's needs. It means your mind can rest at ease knowing your network is safe, secure, and managed by professionals.
Ultimately, outsourcing IT services to an MSP frees up your time as a business owner to focus on what is most important: growing your business.
If you would like to take another step and begin evaluating your options, read the article What to Look for in a Managed IT Services Provider for the top qualities you should be looking for in your MSP.
Choose GDC IT Solutions to Manage your Business Needs
GDC is a technology service provider offering IT consulting and customized IT solutions to fit your business needs. GDC's Managed Service Agreements offer peace of mind with professional and personalized IT care for your business. You can relax knowing our certified technicians will concentrate on your IT systems so you can focus on your business.
Since 1995 GDC has delivered superior IT solutions and capabilities for our clients across multiple industries. Our expert team proactively monitors and secures our clients' systems with in-depth industry knowledge and customized strategies and services.
Learn more or request a personalized quote by connecting with a specialist online.